Dir: Paul Feig. US. 2011. 125mins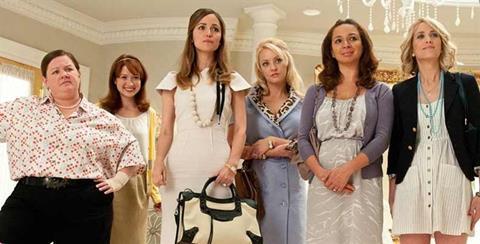 A mostly female ensemble goes for R-rated laughs in Bridesmaids, a patchy comedy – starring and co-written by Saturday Night Live's Kristen Wiig – that has many of the hallmarks of producer Judd Apatow's usually blokey but sweet-natured raunch-fests.
Wiig gives a sympathetic performance as a character who is sad as often as she is funny.
After screening in not-quite-finished form at March's SXSW festival the film opens on May 13 in North America, where worldwide distributor Universal will have to use the TV-star cast to draw female audiences away from the summer tentpoles. Attracting international audiences could be tough (Apatow productions usually underperform outside the US), though the presence of a few non-American names should help in English-speaking markets.

Wiig's Annie is the central character, a hard up singleton struggling to perform her pre-wedding duties as maid of honour to her best friend Lillian (Grown Ups' Maya Rudolph). The other bridesmaids are the rich and snooty Helen (Australian native Rose Byrne, from Apatow's Get Him To The Greek), frustrated mother Rita (Wendi McLendon-Covey, from TV's Reno 911!), innocent newlywed Becca (Ellie Kemper, from the US The Office) and tubby weirdo Megan (Melissa McCarthy,from sitcom Mike & Molly).

Wiig (recently seen on the big screen in Paul) gives a sympathetic performance as a character who is sad as often as she is funny. The ensemble, meanwhile, produces some decent laughs in set pieces that have the bridesmaids taking a boozy plane trip, having violent stomach upsets in a posh dress shop and enduring an over-the-top bridal shower. Irish actor Chris O'Dowd (UK TV's The IT Crowd) plays Annie's love interest while Jill Clayburgh, Mad Men's Jon Hamm and Little Britain's Matt Lucas do fun cameos.

Under the direction of Paul Feig (best known as a writer or director on TV shows including Nurse Jackie and Freaks And Geeks), however, the film often tries to milk too many laughs from a given bit of comedy business, extending scenes beyond their useful life. The result is a loose structure and an unwarranted two-hour-plus running time.

Production companies: Universal Pictures, Relativity Media
International distribution: Universal Pictures
Producers: Judd Apatow, Clayton Townsend, Barry Mendel
Executive producer: Paul Feig
Screenplay: Annie Mumolo & Kristen Wiig
Cinematography: Robert Yeoman
Production designer: Jefferson Sage
Editors: William Kerr, Mike Sale
Music: Michael Andrews
Website: www.bridesmaidsmovie.com
Main cast: Kristen Wiig, Maya Rudolph, Rose Byrne, Wendi McLendon-Covey, Ellie Kemper, Melissa McCarthy, Chris O'Dowd, Matt Lucas