Dir/scr: Rowan Joffe. UK. 2010. 111mins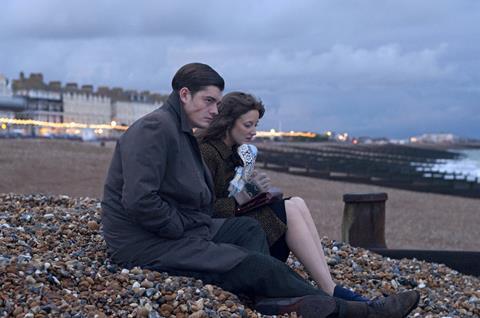 Debut director Rowan Joffe's adaptation of Graham Greene's acclaimed 1938 novel about a brutal young thug making his mark in Brighton's gang scene, is strong on atmosphere though feels oddly disjointed despite a series of fine performances. It lacks the nuances of Greene's source material, though its evocation of South Coast gang warfare is stylishly intense and it never shirks from the randomness of the violence.
Andrea Riseborough is perfect as the gauche and bumbling Rose…sweet but never beautiful (unlike the delightful Riseborough).
The book was famously adapted into 1947 film (which retained Greene's 1930s backdrop) that featured a star-making performance by a young Richard Attenborough as the fresh-faced villain Pinkie who is determined to rise to the top amongst Brighton's criminal fraternity. In this version – transplanted to Brighton of 1964 and the height of the Mods vs Rockers gang wars – sees Sam Riley (who made such an impact in Control) less charismatic and more cold-hearted than the Attenborough's turn.
His emotionless brutality tends to drag down the proceedings, though luckily the film does possess a spectacularly good performance by Andrea Riseborough as the naïve young waitress who is drawn to Pinke (though quite why is ultimately hard to understand) and his gangland lifestyle.
The film opens on the pebbly Brighton Beach where the murder of a gang boss sparks open warfare between rival mobs. These are cold and nasty thugs whose weapon of choice is a flick-knife. Pinkie is involved in taking revenge in the killing, though in the fight he receives a nasty knife gash across his cheek.
Waitress Rose (Riseborough) becomes accidentally involved, and Pinkie sets about wooing her (in a rather unconvincing and unromantic manner) to make sure she won't talk to the police. His main chat-up line seems to be – "I'm bad. You're good. We're made for each other"…very romantic.
At the same time, Rose's boss Ida (Helen Mirren, suitably steely with red hair and a grim expression) sets about trying to save the girl, and gradually pieces together the complexities of the gang war.
The film is beautifully shot by John Mathieson, and the recreation of the street battles between the Mods (on their scooters) and the leather-clad Rockers (on their motorbikes) is impressively staged, and does add a great deal to the sense of an England that seems genial and good-natured but that has violence bubbling away under the surface.
Andrea Riseborough is perfect as the gauche and bumbling Rose…sweet but never beautiful (unlike the delightful Riseborough), Rose might be young and gentle, but her background is tough and she seeks a way out through he relationship with Pinke. Sam Riley looks the part, but overplays the unrelenting brooding violence that is the core of the role. Pinkie is never supposed to be sympathetic, but it is difficult to form any kind of attachment to him.
Rowan Joffe (who scripted The American) does a fine job in his directorial debut, and has crafted a film that is strong on atmosphere but can never make the balance of religious overtones (the Greene signature) gel with the machinations of the tormented Pinkie. It is a bold debut and certainly points to a talent to watch.
Production companies: Kudos Films, BBC Films, Optimum Films
International sales: StudioCanal
Producer: Paul Webster
Executive producer: Jamie Laurenson
Cinematography: John Mathieson
Editor: Joe Walker
Production designer: James Merifield
Music: Martin Phipps
Main cast: Sam Riley, Andrea Riseborough, Helen Mirren, John Hurt, Andy Serkis, Phil Davis, Nonso Anozie