Dirs: Patxo Telleria, Aitor Mazo. Spain. 2011. 97mins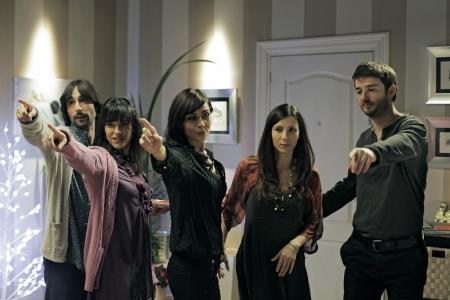 A surprisingly sprightly low-budget Basque romantic comedy which could be ripe for a remake, Bypass looks like a TV sitcom and occasionally feels like a TV sitcom, but co-directors Patxo Telleria and Aitor Mazo surely know how to plot a caper feature.
It's consistently amusing, and for a film of this nature, that's pretty much the only thing that counts.
Proving that money spent on production values is really incidental to writing when it comes to this genre, Telleria (a playwright) and Mazo (a playwright and TV star who also stars in Bypass) pretty much plot themselves onto a precipice, yet somehow - just about - manage to pull it all off in their second feature after 2008's La maquina de pintar nubes.
Falling between all sorts of exhibition-route stools, Bypass is probably not looking at much meaningful exposure outside Spain. But the premise alone should draw some attention from those scouring the market looking for new ideas.
Man-about-Barcelona Xabi (Oxtoa) used to room in Bilbao with his university best friends Maria (Cozar), Jone (Atienza) and Ugalde (Lukas). Currently dating Nerea (Goenaga), who could be the woman to finally tame this bachelor boy, Xabi receives a long-awaited phonecall from Bilbao to inform him that the terminally-ill Maria is about to die from her congenital heart condition.
Aghast to discover that Maria has always been in love with him, Xabi decides to tell her that the feeling is mutual in order to sweeten her "last hours" on earth. But, fortified by his love, Maria makes a dramatic recovery and her doctor, Santi (co-director Mazo) believes she now has three more months to live - tops. Before he knows it, Xabi has talked himself into moving in with her in Bilbao even as his Barcelona girlfriend announces she is pregnant.
As is entirely appropriate for the genre, Xabi turns into a pathological liar as the situations mount up, and his creators don't hesitate to plunge him into desperate fixes (although it does seem as if the final-final denouement could be a little better finessed). Production wise, this has an eau-de-cable-TV. Slightly fragile-looking sets could have come from Ikea, while Bypass does a line in jaunty piano music which owes a lot to the telenovela. Still, it's consistently amusing, and for a film of this nature, that's pretty much the only thing that counts.
Production company: Abra Productions
International sales: Abra Productions, abra@abraprod.com
Producer: Joxe Mortela
Screenplay: Patxo Telleria
Cinematography: Aitor Mantxola
Editor: Asier Pujol
Main cast: Gorka Otxoa, Sara Cozar, Barbara Goenaga, Aitor Mazo, Itziar Atienza, Unax Ugalde