Dir: Stephen Elliott. US. 2011. 97mins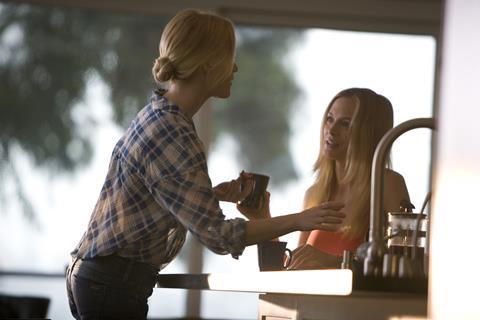 The pornographic film industry has been blamed, among other things, for the exploitation and ruin of many of its performers. Cherry flips this indictment improbably, portraying the skin biz as a bumpy Yellow Brick Road to a young girl's personal fulfillment.
Starry-eyed Ashley Hinshaw seems as suited as any pretty ingénue for the film's inanities.
This laughable well-meaning clunker finds new heights of unintentional humour as it follows, in earnest, a young woman's struggle to rise from waitress to exploited model to skin flick actress to porn auteur. The picture's whacky take on feminist empowerment is one of many things about Cherry that will turn off critics, but a feature with James Franco, Lili Taylor, Dev Patel and Heather Graham, plus the word "pornography" in its description, will still find takers in any format, especially Video on Demand.
As a non-stop unintended punchline, Cherry could also find a home on the Midnight Movie circuit. And if young Ashley Hinshaw's career takes off, a movie showing her taking her clothes off, no matter how ridiculous, will generate demand.
The disjunctive script, written by Elliott (a self-described former sex worker) with porn actress Lorelei Lee, follows pretty blonde Angelina who finds an exit from laundry work when a lazy musician boyfriend gets a fee for delivering her to pose for sexy pictures. The money's good, despite the exploitation, but she flees a drunken mother and violent dad for San Francisco with friend Dev Patel.
Life in the skin trade advances as Angelina serves drinks at strip club and chooses Cherry as her nom de porn. Romance blooms with a strip club customer, rich lawyer Francis (James Franco). Cherry's adult acting career flourishes, first with girls, then in hardcore scenes with men, but her heart is broken by Francis, a jealous cokehead. Adult film director Margaret (Heather Graham) is there as a mentor (and more) to comfort her. Soon Cherry is behind the camera, saving girls like herself.
Filmed at the San Francisco Armory (home of its production company, the porn house kink.com), Cherry is a salute to the porn business, portrayed here as a haven in a heartless world. Who knew? Graham is the presiding matriarch, encouraging young women like Cherry to shed their inhibitions on camera.
Audiences will remember Graham as a teenaged precursor of Cherry (on roller skates) in Boogie Nights, Paul Thomas Anderson's darker look at the porn biz and its casualties.
In its rosy vision of that world, Cherry is ill-served by its dream team cast, although Graham does try, enduring what looks like partner-rape in a coupling between Margaret and her resentful porn-phobic girlfriend (Diane Farr). As Francis, an uninspiring Franco phones in his performance. Dev Patel seems lost as a lovestruck friend/roommate who wants more from Cherry. Lili Taylor's boozy mom is by-the-book. Cherry's path toward porn is a boilerplate trail of tears - plus an improbable happy ending - ready-made for an Oprah-style group hug on TV if the film gets a release. Starry-eyed Ashley Hinshaw seems as suited as any pretty ingénue for the film's inanities.
Shot ably by cinematographer Darren Genet, Cherry reminds us that there's still room for another motivational melodrama about a young woman who triumphs over adversity through hard work to find a nurturing community - in porn. Just not enough room here for you to keep a straight face.
Production companies: Kink.com, Enderby Entertainment, Bijelonic/Turner Films, Visualiner
International sales: Rezo Films International
Producers: Liz Destro, Jordan Kessler, Rick Dugdale, Elana Krausz
Executive Producers: Bendrix Bailey, Kim Leadford, David Raines, Claire Severance
Screenplay: Stephen Elliott, Lorelei Lee
Editor: Michelle Botticelli
Cinematography: Darren Genet
Production designer: Michael Grasly
Music: Jeff Russo
Main cast: Ashley Hinshaw, James Franco, Dev Patel, Lili Taylor, Jonny Weston, Heather Graham, Diane Farr, Maya Donato, Vincent Palo