Dir/scr: Rodrigo Areias. Portugal-Finland. 2012. 95mins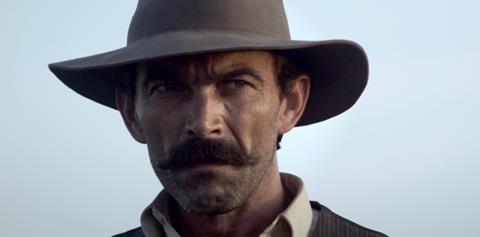 European by any definition, this Portuguese-language western, quoting Henry David Thoreau every ten minutes and openly advocating civil disobedience as the only resource for a self-respecting person to survive decently, attempts to deliver a lesson fit for the political and moral climate of our times.
Directed with more affection for the genre than for the story itself.
But Rodrigo Areias' Hay Road (Estrada de Pahla), a blend of classic movie imagery with 19th century pieces of political wisdom, seems much better attuned to art house and festival taste than to regular Western fans, with mainstream audiences likely struggling not only with its slow pace but also with an intentionally disjointed continuity. The film screened in competition at Karlovy Vary International Film Festival.

Alberto Carneiro (Vitor Correia, resembling Lee Van Cleef) has turned his back on the company of men and lives a hermit's life in a remote cabin, devoting all his time to the translation of Thoreau's writings into Portuguese (the prologue was shot in a snow covered Lapland landscape). But when he finds out that his brother, a shepherd back home, was murdered by bandits and all his sheep had been stolen, he leaves his refuge and goes back to avenge him and retrieve his stolen property.
He first visits the brother's grave, then goes to his home, where he meets his sister-in-law, puts on his brother's clothes and goes out to find and punish the murderers. On his way, he faces an official who becomes the villain of the piece, once he demands payment to allow Carneiro to cross a territory that evidently belongs to no one.
Later he stumbles upon a gang of rebels who have taken arms against crooked authorities, survives attempts on his life, then he finds some of the lost sheep. But when he tries to bring the thief to justice he is arrested instead and brought before a corrupt judge who sends him to prison. He escapes jail with a black fellow inmate with whom he doesn't even share a common language.
Clearly an allegory, though there are references to the 1908-10 troubles which put an end to the Portuguese monarchy and replaced it with a republic, the plot never takes the trouble to establish its characters who remain emblematic at best and too often forgets its narrative duties
Instead it elaborates on such philosophical suggestions as the distinction between law and justice and the importance of fighting one's enemies at home before looking for them abroad, and finally concludes that in a corrupt system, the rightful place for a honest person to be is in prison.

Directed with more affection for the genre than for the story itself, the film thematically bows to Thoreau's theories, but visually, the references are John Ford, Sam Peckinpah, Sergio Leone and their likes, down to such physical details as the resemblance between some of the supporting parts and familiar faces from old Westerns such as Jack Elam. The music often uses the sound of a twangy guitar for the mood and the Portuguese locations, though lacking the immense majesty of the Wild West, drag in pieces of the Old World not only to remind the viewer it is all about an episode in Portuguese history, but to further expand the sense of the metaphor.
Production company/sales: Bando a Parte, areias@bandoaparte.com
Cinematography: Jorge Quintela
Editor: Tomas Baltazar
Production designer: Ricardo Preto
Music: the Legendary Tigerman, Rita Redshoes
Main cast: Vitor Correia, Ines Mariana Moitas, Nuno Melo, Angelo Torres