Dir: Joshua Moore. US. 2011. 92mins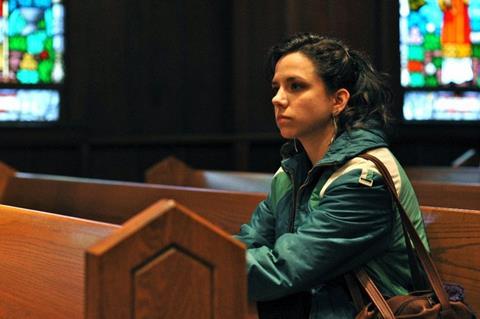 Joshua Moore's delightfully freewheeling debut is essentially a European art-house film resolutely transplanted to San Francisco, and given a delightful heart and soul in the form of actress/singer Alexandra Clayton, whose charismatic performance helps gives the film its unassuming vibrancy and passion.
The central performance of Clayton helps give the film a personality of its own.
I Think It's Raining, which had its world premiere at the Karlovy Vary Film Festival, is at heart the modest tale of a young woman – slightly troubled and certainly complex – returning to her home town, rambling around (largely in the rain) and offering tantalising glimpses of who she is and why she is there.
Director Joshua Moore describes about being inspired by the cinematic traditions of the French New Wave, Italian Neo-Realism and the films of John Cassavetes, and certainly aspects of those styles peak out during various moments of I Think It's Raining, but the central performance of Clayton helps give the film a personality of its own.
She developed her character and dialogue over an extensive workshop period over a year with Moore – hence her co-story credit – and while other characters do drift into the film (particularly Andy Dulman) this is essentially her movie.
With her green jacket, short skirt, white cowboy boots and apparently bubbly personality, Renata (Clayton) is a spontaneous character. Freshly arrived back in San Francisco, she chirpily sits at a subway station and tells a stranger about how she is engaged to an African prince and is moving to Equatorial Guinea. Renata is a complex young woman who lies…
She checks into a motel, meets old friends at a party, wanders the streets, gets drunk at a music club, embarrasses a couple in a Chinese restaurant, steals a bicycle and romances a guy named Val (Dulman). Renata is passionate, intriguing, entertaining, annoying, rude, troubled, cynical and romantic…she is full of contradictions and complexities – in short she is a modern-day young American woman haunted by issues that she needs to resolve.
The film is nicely shot and edited, and features a suitably stylish folky soundtrack – with Clayton also performing at one stage – and while the ending is gently enigmatic (she goes to – presumably – her family home and looks around at family pictures) the film has an intelligent sense of pace, mainly based around Renata's engaging quirkiness.
It is a small film certainly, but one that could well be championed and 'discovered' and it deserves to find an appreciative audience, whether on the festival circuit or some form of modest indie release.
Production company: Muckle Mouth
Producer/sales contact: Brooke Dooley, info@ithinkitsraining.com
Screenplay: Joshua Moore, and co-story Alexandra Clayton
Cinematography: Sinisa Kukic
Editor: Staci DeGange
Production designer: Tyler Kowalski
Website: www.ithinkitsraining.com
Main cast: Alexandra Clayton, Andy Dulman