Dir: Dennis Lee. US. 2011. 91mins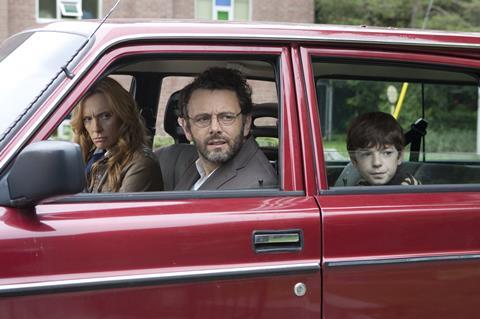 A young man's search for his biological father, usually the stuff of handwringing sanctimony, is the raw material for Jesus Henry Christ, a comedy that stumbles under the weight of its own quirkiness. Clever slapstick sounds promising, but Jesus Henry Christ is more smart than funny as it spoofs topics ranging from feminism to test-tube birth.
The young cast offers the film's surprises.
It isn't quite the next Juno, but the story of kids with more wisdom than their elders could find a hook in the youth market, which could take to using its title as the expletive that it was intended to be. Having 'Jesus' in the title could also help get attention (not all of it welcome) in US regions where independent films tend to be ignored.
Despite plenty of physical humor, the audience outside English-speaking countries could be limited, although Michael Sheen and Toni Collette will help sell the film, and ancillary sales could be strong.
The father-searching child in Dennis Lee's comedy (conceived as a short student project) is Henry James Herman (Jason Spevack). A test-tube baby, Henry is a genius with a videographic memory who is in university at the age of ten.
His mother, Patricia (Toni Collette), is the only daughter of a family of cops and oddballs, who works in the university cafeteria, while Henry's sperm-donating father seems to be Slavkin O'Hara (Michael Sheen), a nerdy writer who has already published a book on another Petri Dish offspring of his, Audrey (Samantha Weinstein), a feisty red-head of 12 whose classmates terrorise her with the chant, "Lesbo.".
As a director, Lee takes the shake-well-and serve approach – literally. Characters clash and surge toward the camera, like liquid in a container. Inspirations seem to be Danny Boyle for tactility and Pedro Almodovar and Michel Gondry for manic wackiness. A colourful palette and piles of props add to the volatile atmosphere. Production values are high in the Toronto-shot comedy.
Lee's script, which won a student Academy Award and a DGA student prize (and the support of Julia Roberts, who exec produced), skewers Patricia's loser family and the shrillness of the feminism into which she escapes. Once Henry and Audrey discover that they are half-siblings – and their father, Slavkin, is shown to be a lovable wimp, the tone turns, and the story goes into its own version of youth empowerment mode.
If this sounds too overburdened for a film that's supposed to make its audience laugh, it is.
Toni Collette, a fine comedienne, will get laughs as a struggling mother scheming awkwardly for her son and for something better than a cafeteria job.
In the role of Slavkin O'Hara, nerdy author of the personal journey book Born Gay, or Made That Way, Michael Sheen couldn't be playing a role farther from anyone's expectations. Neither Lee's writing nor Sheen's prodigious talent turn the clueless academic who maps out his life in post-its on an office wall into the wildly funny figure that he should be. It's a missed opportunity.
The young cast offers the film's surprises. Jason Spevack has an irreverent confidence as a smarter-than-you boy whose family (at least those he knows about) couldn't seem much dumber.
As Audrey, young Samantha Weinstein is the object of disdain, but dishes it back mercilessly with an upturned nose and a forceful presence, making Jesus Henry Christ an unlikely motivational tale about a child's strength under fire. She's funny, too.
Production companies: Reliance Entertainment, Red Om Films, Hopscotch Pictures
International Sales: IM Global, www.imglobalfilm.com
Producers: Philip Rose, Lisa Gillan, Sukee Chew

Executive Producers: Julia Roberts, Deepak Nayar
Screenplay: Dennis Lee
Cinematography: Daniel Moder
Editor: Joan Sobel
Production designer: Robert Pearson
Music: Simon Taufique, David Tom
Main Cast: Toni Collette, Michael Sheen, Jason Spevack, Samantha Weinstein, Frank Moore