Dir/scr: Guillaume Canet. France. 2010. 154mins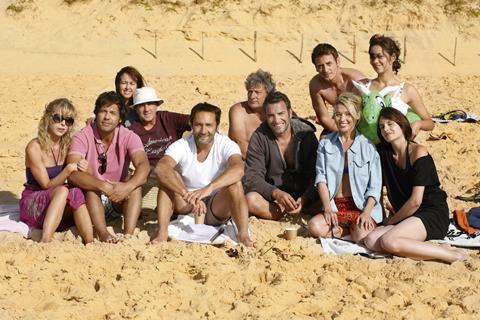 Guillaume Canet's third outing as a director is great big indulgent sprawl of a film about a bunch of friends facing various crises while on holiday together in the southeast coast of France. A broadly commercial enterprise that features a host of the country's biggest stars, its principal design seems to be to win over as wide a French audience as possible. There's something for everyone in its unwieldy 154 minute running time - unsubtle humour, unashamed sentimentality and even the odd moment of insight and genuine emotion along the way. If its bloated length doesn't hinder its chances, it could be a major local hit when it opens on October 20 through EuropaCorp.
The ensemble works well together and it's a pleasure to watch Cluzet, Magimel and Lelouche strut their stuff.
International prospects are less rosy since it will never win over critics the way arty ensembles like Those Who Love Me Can Take The Train or A Christmas Tale did. It has its guilty pleasure moments and few could help but cry in the lengthy tear-drenched finale, but upscale audiences who like French films will balk at the Hollywood stylings and Big Chill-esque clichés on offer here.
Canet's Tell No One, of course, was a sizable hit outside France. But without a source novel to adhere to, he falters here with an epic original screenplay that could have used some disciplined editing.
The movie opens with a hard-living, drug-using philanderer called Ludo (Dujardin) getting mowed down on his motorbike by a large truck. His friends rally to his bedside, but, even though Ludo is clearly teetering between life and death, they decide to go on their annual holiday anyway.
Among these friends are Max (Cluzet), a successful but tightly-wound hotelier who hosts the pack at his holiday home, Vincent (Magimel), a married chiropractor harbouring a serious man-crush on his oldest friend Max, Marie (Cotillard), a single woman and Ludo's ex who finds it hard to connect with men, Eric (Lelouche), the good-natured but chronically unfaithful lover of Lea (Louise Monot), Antoine (Lafitte) who is obsessed with his longtime girlfriend and why she has left him. Also in the group are Max's wife Vero (Bonneton) and Vincent's wife Isabelle (Arbillot).
All of them harbour secrets and insecurities which slowly emerge as the holiday progresses accompanied to a classic song score (more Big Chill echoes) that includes tracks from Creedence Clearwater Revival, Gladys Knight & The Pips, David Bowie and Janis Joplin.
The ensemble works well together and it's a pleasure to watch Cluzet, Magimel and Lelouche strut their stuff. But to say the structure of the film is loose is an understatement. It meanders along at a snail's pace and, while it's not unpleasant to get to know these characters so well, the dramatic moments of the film and the key epiphanies are sometimes lost in the freewheeling excess of it all.
Production companies: Caneo Films, Les Productions Du Tresor, EuropaCorp M6 Films
International sales: EuropaCorp, www.europacorp.com
Producer: Alain Attal
Cinematography: Christophe Offenstein
Production designer: Philippe Chiffre
Editor: Herve De Luze
Main cast: Francois Cluzet, Marion Cotillard, Benoit Magimel, Gilles Lellouche, Jean Dujardin, Laurent Lafitte, Valerie Bonneton, Pascale Arbillot, Joel Dupuch, Matthieu Chedid