Dir: Lou Ye. France-China. 103mins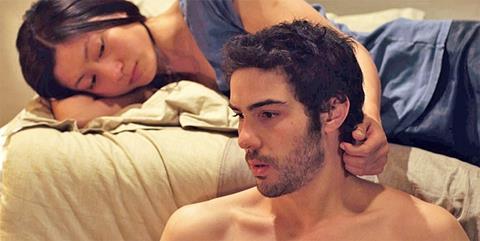 Obsessive love and lust is at the core – rather than the heart of – Chinese director Lou Ye's gritty and intensely visceral tale of the relationship between an oddly mis-matched couple, packed with plenty of brutal sex but lacking any real answers (or even any real interest in answers).
It is an absorbing, intriguing and sometimes hard film to watch.
Controversial director Lou Ye has been banned from filmmaking in his homeland of China following his 2006 film Summer Palace, but is oddly at ease largely placing his story against an unglamorous Parisian backdrop (no clichéd tourist shot here), and makes excellent use of his cast, headed by Tahar Rahim (who starred in A Prophet) and model-turned actress Corinne Yam. The frank nature of the project as well as Rahim's profile should spark sales interest for Wild Bunch, though it may disappoint those expecting a more sexually frank film.
The film is an adaptation of Jie Liu-falin's autobiographical novel (banned in China) Bitch – the word features in the film a lot, but re-titled Love And Bruises ties in with the film being not as tough as it might have – and has been shot in stylish hand-held fashion, bringing the viewer up close and personal with the self-destructive twosome.
The film opens – as perhaps only French films seem to be able to – with a couple arguing in the street about the end of their relationship, as tearful Hua (Yam), a Chinese woman who is a student in Paris, is dumped by her older boyfriend.
Unhappily wandering the streets, she is physically knocked over by Mathieu (Rahim), who works erecting market stalls. His profuse apologies soon switch into him following her (she doesn't object) and then having rough sex with her (she certainly doesn't object).
Despite the fact that they are polar opposites, the seem to need each other – he falls obsessively for her glum but elegant beauty and she is taken with his rough nature. It is a relationship driven by sex (they have plenty of it – all filmed above the waist - though all in a rather traditional and monotonous nature) with no real intellectual link…perspiration rather than inspiration certainly.
Sexual violence is always lingering on the edge of these scenes, and often crosses over. He 'lends' her to a brutish friend who we assume rapes her (the film cuts away as she screams), but she still goes back to him. Even when he starts a relationship with another woman – and is living is a grim and dirty flat – she still meekly stays with him, always submitting to his harsh sexual advances.
She eventually returns to China to work as a translator and moves in with a staid and sensible man who wants to marry him, but despite seeming to enjoy her new life (she even smiles a few times) she still returns to France to meet up with Mathieu again, who is now living in the basement of his parent's terrace house.
There is much to admire in Yam and Rahim's immersion on their roles, especially given there is not much breadth of character for them to play with – bleak sex, occasional violence and some drinking sessions are the cornerstones of their relationship – and often their reactions to plot developments are simplistic rather than subtle.
To a degree Yam has the tougher role. Hua is beautiful and smart, but has a deep-rooted (though never really explained or developed) need for a tough relationship with a 'real man' (as Mathieu describes himself). Rahim is impressive in a role that is rather more one-note, though he manages to rare feat of making Mathieu sympathetic at times.
It is an absorbing, intriguing and sometimes hard film to watch, but at least it is trying to be honest about the nature of certain relationships where 'love' and 'bruises' have to exist alongside each other.
Production companies: Why Not Prods., Dream Factory, Les Films du Lendemain, Arte France Cinema presentation, Canal Plus, Arte France, Cinecinema
International sales: Wild Bunch, www.wildbunch.biz
Screenplay, Lou Ye, Jie Liu-falin based on Jie Liu-falin's novel Bitch
Cinematograhy: Yu Lik-wai
Editor: Juliette Welfling
Music: Peyman Yazdanian
Main cast: Corinne Yam, Tahar Rahim, Jalil Lespert, Vincent Rottiers, Sifan Shao, Zhang Songwen, Patrick Mille