Dir: Matthias Glasner. Germany-Norway. 2011. 132mins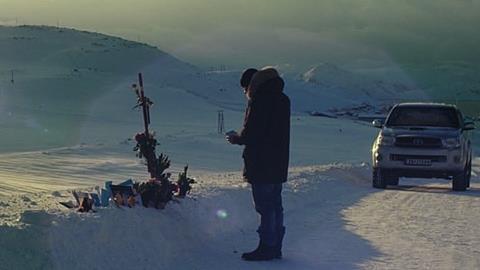 A thousand kilometres north of the Arctic Circle, the Norwegian town of Hammerfest is the setting for this dark, emotionally draining hammerfest of a film. A slow, unrelenting Lutheran tragedy of guilt and moral responsibility, Mercy is beautifully shot and features sterling performances, particularly from leads Jurgen Vogel and Birgit Minichmayr. But for all the story's power and the actors' bravura, there's something too mechanically plotted about the drama, and too prettily stylised about the direction, which keeps the audience outside looking in.
Jakub Bejnarowicz's photography brings out all the beauty and indifference of this winter landscape.
With its running time of over two hours, big quasi-religious themes and sombre palette and mood, Mercy will appeal to resilient arthouse audiences who are not adverse to a dark night of the soul every now and again. Originality, though, is not the film's strong point, and in spite of its impeccable look and production values, it may struggle to gain a foothold even in territories that are receptive to Scandinavian downers.
The exposition is dealt with briskly via split-screen insets that run alongside the opening credits: engineer Niels (Vogel) is taking up a job on a natural gas liquefying plant on an island just across from Hammerfest. After an intertitle telling us, among other Wiki factoids, that between November 22 and January 21 the sun never rises above the horizon in this part of the world, we fast-forward nine months.
Niels is now living in Hammerfest with his wife Maria (Minichmayr) and teenage son Markus (Stange). Maria, who is trying to give the rocky marriage a second chance, has found work as a nurse in a hospice for the terminally ill, while Markus attends a local school, where he is struggling to fit in. Niels, who seems fuelled by a mix of aggression and self-contempt, begins an affair with Linda (Torp), a co-worker at the gas plant, while Maria bonds with Wenche (Bock), her boss at the hospice, who is pregnant but unlucky in love.
On the way home after a double shift, Maria runs into something or someone on a dark and snowbound road. In a state of shock, she drives on rather than stopping to check, and at home confesses to Niels, who drives back to the spot but can find nothing. It's a dramatic springboard that recalls, down to some of the details, that of Lucrecia Martel's The Headless Woman – but that film dealt with the consequences in a far less predictable way. Here the developments are harrowing but at the same time feel as if plotted on a flowchart, and at a couple of points – notably in a helicopter conversation between Linda and Niels – the script feels like it's bullying the characters into saying or doing unlikely things, purely for the sake of story.
Dramatic and thematic sidelights are provided by Maria's work at the hospice, Markus' experiences at school, where peer pressure causes him to turn on a fellow misfit, and the church choir where Maria and Wenche sing. The sombre modern choral works they perform leach over into the soundtrack, which racks up the tension, but also the film's pitch for spiritual heft and existential seriousness, with jangling guitar melodies and ethereal warbles.
Jakub Bejnarowicz's photography brings out all the beauty and indifference of this winter landscape and the slow thaw into the summer as the action moves from dark and icebound January to the midnight sun of June (a move echoed, naturally, in the film's moodscape). But the film's aestheticisation of suffering muffles our identification with two main characters who don't, in the end, seem that much like you and me. The designer varnish is applied at its thickest in the montage-style ending, which opts for music-video tone painting in sub-Malick style, rather than a dramatically satisfying wrap.
Production companies: Knudsen & Streuber Medienmanufaktur, Schwarzweiss Filmproducktion, Ophir Film und Fernsehproduktion
International sales: Beta Cinema, www.betacinema.com
Producers: Kristine Knudsen, Matthias Glasner, Andreas Born
Screenplay: Kim Fupz Aakeson
Cinematography: Jakub Bejnarowicz
Editor: Heike Gnida
Production designer: Claus Rudolf Amler
Music: Home Sweet Home
Main cast: Jürgen Vogel, Birgit Minichmayr, Henry Stange, Ane Dahl Torp, Maria Bock, Henrik Hoff, Iren Reppen