Dir/Scr: Cedric Klapisch. France. 2011. 104mins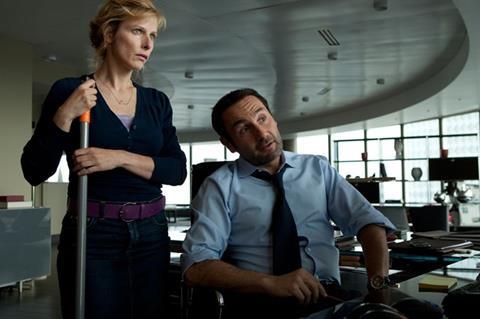 Cedric Klapisch tackles social inequality and the collateral damage of financial wheeling and dealing by throwing together a high-flying, morally bankrupt financial trader and a resoundingly working class cleaning woman in My Piece Of The Pie (Ma Part du gateau). Heartfelt performances from well-liked leads Karin Viard and Gilles Lellouche do much to keep the heavy-handed and didactic passages afloat, but that's almost entirely what the film consists of until things get interesting at the tail end of the final stretch.
This comedy with social overtones fits together well enough to click with domestic audiences.
Klapisch (Russian Dolls) has an enviable track record and, with the current success of Philippe Le Guay's The Women On The 6th Floor (Les femmes du 6e etage), there seems to be an increased appetite for revisiting the class struggle with a commercial rather than arty touch.
Although original ideas prove sparse, this comedy with social overtones fits together well enough to click with domestic audiences. Offshore prospects may be less robust, although the package is marketable. Film is part of the line-up at Tribeca and will be shown at COL-COA in Los Angeles in April.
When a film's poster girl for the struggling proletariat is named France, subtlety is not a major concern. At the film's outset, 1200 workers have been made redundant in the port city of Dunkirk and otherwise resilient France (Viard), a 42-year-old single mother of three, tries to kill herself because the factory where she has worked for 20 years is closing to be outsourced to China.
Meanwhile, Steve (Lellouche), who for the past decade has been making a fortune in finance in London, is about to return to his native Paris to continue gutting companies, betting on currency rates, and raking in the proceeds. The 35-year-old bachelor, a workaholic accustomed to all the perks money can buy, is baffled when he flies a fashion model to Venice in his private plane and yet she finds him resistible.
Determined to go where the work is, France heads for Paris to take a course on how to clean house, get a job and commute home to financially depressed Dunkirk on weekends. Film's first good idea, roughly 25 minutes in, is to oblige her to pretend to be a foreigner with a thick accent in order to fit in as a maid - a charade she plays to the hilt but drops when she's hired to be Steve's cleaning woman.
Earthy and spontaneous France knows what her place is supposed to be but also speaks her mind. In Steve's sleek loft she discovers a realm of wealth she barely thought possible. He rubs elbows - and possibly more - with a "real" person and, when the son Steve barely knows and hasn't a clue about caring for comes to stay, France becomes indispensable.
Laughs ensue when Steve takes France to a classy business dinner in London. But when France learns that Steve's cavalier machinations may have had a direct effect on the good people of her home town, she takes drastic action. Ken Loach and Paul Laverty would have had a better idea of where to go next.
Strident, off-putting score is nearly as annoying as the destructive excesses of free-market capitalism.