Dir/scr: Nirpal Bhogal. UK. 2011. 83mins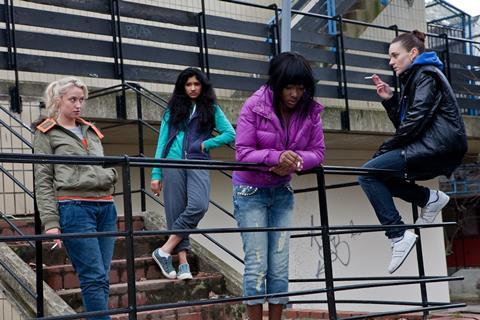 Sket's poster art depicts the engorged faces of girl gangbangers as they lay into a prone victim, promising music from Giggs, Skream and Mz Bratt and boasting its street pedigree - Gunslinger Films, the stable that delivered Anuvahood and Shank. It's clear, then, which market Gunslinger's parent company Revolver will be aiming for when Sket opens in the UK on October 28.
Sket has a ring of authenticity even as it travels down some familiar genre lines.
The good news is that Nirpal Bhogal's debut should deliver precisely that 'urban' demographic, but Sket seems unlikely to widen the base despite some good performances from his female-centric cast. Sket works to predictable beats and delivers some sharp observations about women and gang culture, while a strong musical element helps to lift the film out of its low-budget origins.The film premiered at the BFI London Film Festival.
But Bhogal's often-inexpert realisation of his own script lacks the power it might have delivered on the page, unaided by any strong visual ethos past bathing every single night sequence in an orange filter - and there are quite a few of them.
It could be, however, that Sket will be best remembered for its breakthrough performances, particularly from Emma Hartley-Miller as girl gang leader Danielle (or 'Daze') and young newcomer Aimee Kelly, once you get past the hairdo.
Kelly plays 16 year-old Kayla, newly arrived with her older sister Tanya (Foster-Barnes) on the Rowley Way Estate in Camden from their home in Newcastle after the death of their mother.
It could be argued that Rowley Way is the most familiar face in this film, almost deserving of its own billing after dozens of features including Anthony Minghella's Breaking And Entering. As it's now Grade II listed and growing ever-more bijou, Rowley Way initially feels like a Housing Authority result for Kayla as opposed to a predatory urban wasteland in which gang culture rules the day.
Turning a blind eye to this becomes easier as the film progresses, though, and Kayla strikes up an acquaintance with tough nut Daze and her crew when she is hassled in the streets and on a bus. Daze clearly has a problem with men, wasting no opportunity to get stuck in, and her gang attends to her every violent whim. She is also fascinated by the feisty Kayla.
But when Kayla encounters Shaks (Steele), the girlfriend and partner of local drug kingpin Trea (Ashley Walters) after a fight with her sister, the meeting has far-reaching repercussions that include a brutal murder and a somewhat far-fetched revenge plot being kicked into play.
Made with the support of Safe 'n' Sound, a youth project in London's troubled Peckham borough which helps women affected by gang culture, Sket has a ring of authenticity even as it travels down some familiar genre lines. It makes some pertinent points about women who live in this world and the casual attitude towards rape and subjugation.
Casting by Jane Ripley, who found the fresh faces of Skins, is equally inspired here and though at times inexpertly filmed, all her girls make the most of the chance they've been given. Costume designer Guy Speranza likewise relishes Sket's milieu.
Production company: Gunslinger Films
International sales: AV Pictures, www.AVpictures.co.uk
Producers: Nick Taussig, Daniel Toland, Terry Stone
Cinematography: Felix Wiedemann
Production designer: Melanie Light
Editor: Richard Elson
Main cast: Aimee Kelly, Riann Steele, Emma Hartley-Miller, Lily Loveless, Ashley Walters, Katie Foster-Barnes