Dir/scr: Aaron Houston. Canada. 2011. 85mins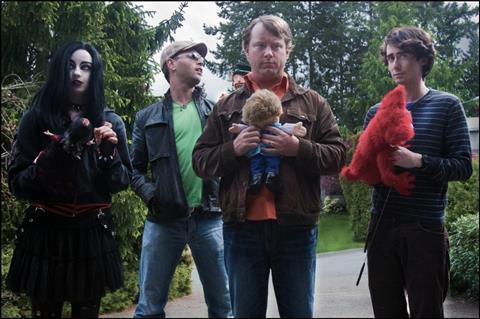 Aaron Houston's impressively assured low-budget feature debut is a delightfully subversive black comedy. It is a funny mockumentary – very much in the vein of Christopher Guest's films such as Best In Show – that offers smart laughs mixed with lowbrow sexual humour, all set against the backdrop of a children's television puppet show.
It is low-budget stuff to be sure, but handled with a great deal of craft and wit.
The film had its world premiere at the Karlovy Vary Film Festival – where it won the festival's Independent Camera award - and should find attention from savvy distribs and other festivals.
The film is set in Vancouver, where hit children's puppet show Sunflower Hour is organising a 'talent' competition to find a new puppeteer. The show is run by porn-industry veteran Donald (Peter New) and his unhappy wife Melissa (the impressive Johannah Newmarch), who barely talk, let alone bicker.
The four eager participants are an oddball bunch indeed – they are Leslie Handover (Patrick Gilmore) who wants to use puppets to tackle homosexuality, even though it is clear his is gay himself; mild-mannered David Spencer (Amitai Marmorstein) whose life-long dream is to be a puppeteer; wannabe Irishman Shamus (Ben Cotton) who only speaks through his hand puppet Shamus O'Reilly, and – best of all – Goth teen Satan's Spawn (Kacey Rohl), real name Olivia, who is simply there to shock.
Initially they are put in a cheap hotel and asked to interview for the one position, but with Melissa having no plans to go ahead with any appointment as a way to spite her husband. Eventually one of the foursome is set to be given their big break before a sexual twist throws the show into turmoil.
It is low-budget stuff to be sure, but handled with a great deal of craft and wit. The crew also feature in the film themselves, with editor Greg 'Torpedo' Ng doubling as the faux mockumentary editor and even writer/director Aaron Houston even cropping up for a brief cameo at the end of the film, which sees Donald heading back to his porn-producer roots.
Production companies: Unpaved Prods., Telefilm Canada
Producer: Aaron Houston, Aisla Webster
Cinematography: Steven Deneault
Editor: Greg Ng
Production designer: Daren Luc Sasges
Main cast: Patrick Gilmore, Amitai Marmorstein, Kacey Rohl, Ben Cotton, Peter New, Johannah Newmarch, Greg Ng