Dir: Mads Brügger. Denmark. 2011. 94mins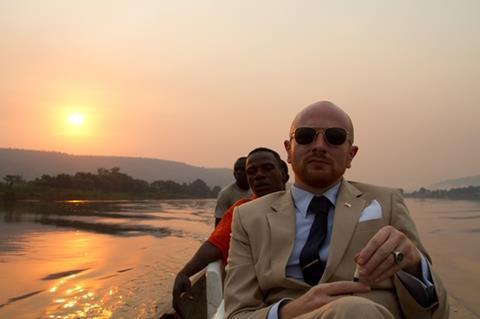 Danish journalist and satirist Mads Brügger bribes, cajoles and fakes his way into the heart of Africa to pose as an 'Ambassador' with the intention of raising important issues about power and corruption inside the Central African Republic. Along the way his film also raises more than a few question around the ethics and morality of this type of undercover guerrilla documentary making.
Brügger's façade exposes a grotesque and frightening view of a deeply corrupt country.
The Ambassador is a provocative, challenging, funny and even scary film and certainly never less than extremely watchable. Likely to find a regular berth at film festivals, it should also appeal to broadcasters and distributors appreciative of its controversial subject matter and filmmaking style.The film opened Amsterdam's documentary festival IDFA.
Brügger won the 2010 Sundance World Cinema Documentary Award for The Red Chapel, in which he managed to get a Danish-Korean acting duo into North Korea for a performance, but with The Ambassador he takes his style of immersive documentary-journalism a serious stage further.
He lays out his cards right at the start of the film. His plan is to pose as businessman Mads Johan Brügger Cortzen, and using a concealed camera he sets about planning to buy a diplomatic passport. He meets a British former soldier in Portugal who claims to be able to seal the deal, but also explains that if he is planning to go to the country in pursuit of blood diamonds he could well end up dead.
In the end he uses a Dutch facilitator Willem Tijssen (handing over $135,000) to get to Liberia where essentially he is to buy a roving Ambassadorship to the Central African Republic, a country rife with poverty and corruption. Acting the perfect caricature of the white man in Africa (leather boots and large cigar is his trademark look) he poses as a businessman planning to build a match factory, though his real plan is to meet with a mine owner who can access diamonds for him.
He gets advice on how the country works – the most disturbing from the country's chief of security, a former French Legionnaire named Guy-Jean Le Foll Yamande who admits the country is still being essentially controlled by its former colonial overlord, France.
He quickly meets mine owner, Monsieur Gilbert, and with wads of cash flowing under and over the table Brügger sets about setting up his diamond deal and – delightfully implausibly – he opts to recruit pygmy workers for his match factory, facilitated by so much alcohol that the pygmy village is super-supportive of the deal.
So supportive, in fact, that he is issued with two pygmy men – Albert and Bernard - who are to act as his assistants. In an amusingly surreal scene he takes the two drunk pygmies on a boat trip on a nearby river, with footage accompanied by the sound of Woody Guthrie's This Is My World on the soundtrack.
With more cash passed over to Mr. Gilbert, Brügger is finally handed packages of blood diamonds, but starts to worry about his ability to get out of the country when he realises his Ambassadorial credentials are not as legitimate as cast iron as he had assumed. He gets even more disturbed and scared when he hears about the assassination of Guy-Jean Le Foll Yamande.
Brügger's façade exposes a grotesque and frightening view of a deeply corrupt country, and the film is at its very best when it blends black humour and satire with terrifying reality. The reality of corruption is not necessarily particularly new or fresh, but his film offers a unique inside view of how both diplomacy and corruption can operate.
The question niggling away at the film is whether it is appropriate for Brügger to use thousands of dollars and Euros to pay for a diplomatic position, or whether sipping champagne while wearing colonial leather boots and lording it over African locals is the best way to expose injustice. Maybe not – but his performance helps make The Ambassador no traditional documentary, and certainly makes it a lot more entertaining than a lot of dry, but well-meaning, films.
Production companies: Zentropa Real Aps, New Danish Screen, Film I Vast AB
International sales: TrustNordisk, www.trustnordisk.com
Producers: Peter Engel, Carsten Holst
Executive producer: Peter Garde, Peter Aalbaek Jensen
Screenplay: Maja Jul Larsen, Mads Brugger
Cinematography: Johan Stahl Wintereik
Editors: Leif Axel Kjeldsen, Carsten Sosted
Music: Niklas Schak, Tin Soheili