Dir/scr: Oscar Aibar. Spain. 2010. 106mins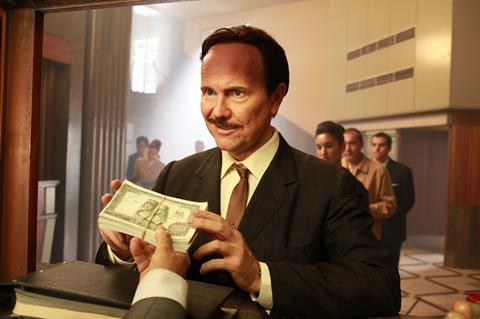 A delightful mixture of genial period comedy mixed with comic strip characters bouncing out of the screen, The Great Vazquez is a rich piece of comic entertainment driven by an engaging lead performance by Santiago Segura as the roguish comic strip artist for whom life is a series if lies, cons and romantic dalliances.
Santiago Segura engagingly plays Vazquez with a permanent half-smile.
The good-natured bawdiness and playful humour will likely help a successful release in Spain, and Spanish-speaking territories could well embrace the film, along with festivals that appreciate its American Splendor-style qualities.
The backdrop of Barcelona of the 1960s, where successful and popular comic-strip artist Manuel Vazquez – a real-life figure – leads a happy hand-to-mouth existence, borrowing money where he can find it, taking clothes and property on the never-never, and despite having a wife and children at home genially picking up the naïve but enthusiastic Rosa (an enchanting Mercè Llorens) as soon as she arrives in the big city from the country to work as a maid.
He promptly installs them both in a plush hotel, with no intention of paying the bill, and they set about living the high-life. At the same time he is constantly trying to get advances off his publisher boss Gonzalez (Enrique Villén), who is fond of his most successful artist, but who is being given grief by the company's dull new accountant Pelaez (Álex Angulo).
Santiago Segura engagingly plays Vazquez with a permanent half-smile (mainly because there's a cigarette permanently in one side of his mouth) as he artfully dodges creditors, tricks all around him out of money, and talks to his comic strip characters (such as the Gilda sisters and the Cebolleta family) who emerge from the magazine pages to try and encourage him.
Writer-director keeps things moving at a brisk pace and gets the most from his broadly written characters. A final on-screen coda before the credits reveal the realities of Vazquez's real-life cons and connivances, even faking his death to try and make more from his comic art work…ironically he really did die, shortly after faking his own death.
Production companies:: Tornasol Films, Distinto Films, Castafiore Films
International sales: Latdio Films, www.latidofilms.com
Producer: Gerardo Herrero, Miriam Porte
Cinematography: Mario Montero
Production designer: Federico Cambero
Editor: Fernando Pardo
Music: Mastretta
Main cast: Santiago Segura, Mercè Llorens, Álex Angulo, Enrique Villén, Jesús Gúzman