Dirs: Tomasz Budzyński, Łukasz Jankowski. Poland. 2010. 103mins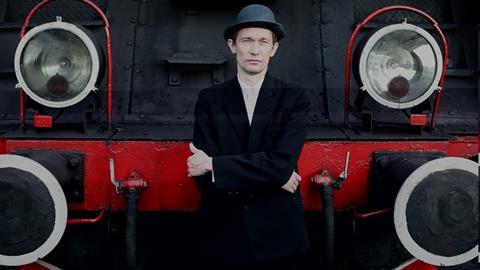 If Samuel Beckett ever decided to make a musical, the result would be this extremely strange Polish movie Towards The East (Podróż na Wschód) in which any considerations of form are ignored for a decidedly weird journey on the railways of Poland.
The vigour of Towards The East is certainly admirable.
Co-director Budzyński is a member of legendary Polish punk rockers Armia and the film is clearly aimed at their fans. International audiences will be rather non-plussed by proceedings and the film will most likely not travel far apart from the occasional festival screening after receiving its world premiere at the 11th New Horizons Film Festival.
Based on the short story Maszynista Grot by Stefan Grabiński (also known as the 'Polish Poe') the film is the bizarre tale of a railwayman, his peculiar colleagues and some extraordinary passengers. Musings on the nature of life and surreal little episodes are interspersed with music performances in a film that has plenty of energy even if narrative coherence is somewhere approaching nil.
Certainly it feels that Budzyński and co-director Jankowski – making their feature film debuts – are throwing in every genre they can think of with some dark drama, cabaret and experimentalism all thrown into the pot. The result is something of a muddle to say the least and one feels that the uninitiated (i.e. those who are not fans of Armia) aren't exactly being catered to.
The vigour of Towards The East is certainly admirable but this is very much a cinematic oddity designed for an extremely niche audience.
Production companies: Stowarzyszenie Niewidzialna Armia, Narodowe Centrum Kultury, Wentan P.P.H.U
International sales: Stowarzyszenie Niewidzialna Armia
Screenplay: Tomasz Budzyński, based on a short story by Stefan Grabiński
Cinematography: Łukasz Jankowski
Editor: Łukasz Jankowski
Main cast: Arkadiusz Wojciechowski, Dariusz Basiński, Jacek Borusiński