Dir: Philippe Godeau. France. 2013. 102mins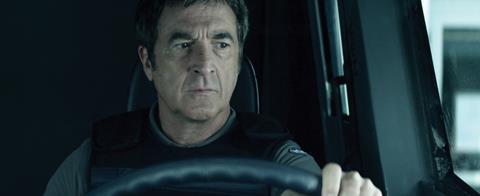 This real-life crime story is as intriguing, bemusing and enigmatic as actual event it is based on, and while Philippe Godeau's film eschews flashy visuals and crime-movie clichés his film – helped especially by a wry performance by star Francois Cluzet (Tell No One, The Intouchables) – is a fascinating and absorbing affair.
The film offers no real answers – much like Musulin himself – but it is an intriguing and thoughtfully structured film.
The film which has opened in France and screens competition at the Karlovy Vary Film Festival, is based in the real life story of French security van driver Toni Musulin (played by Cluzet) who in November 2009 staged an audacious robbery of his own security van and made off with Euro11.6 million (hence the title).
But while the final section of the film details his robbery, the bulk of the film is there to try and sketch out what sort of man Toni Musulin actually is and try and point out character traits that might account for why he staged the robbery. The film offers no real answers – much like Musulin himself – but it is an intriguing and thoughtfully structured film.
11.6 opens with Musulin giving himself up to police, before switching back in time to follow his behaviour prior to the crime. Despite living with his bar-owner girlfriend Marion (Corinne Masiero) he is something on a loner and rarely explains his actions to everyone. His only real friend is his shambling, sandal-wearing, security guard partner Arnaud (Bouli Lanners), who he protects from the taunts of other guards.
But he is a man of different moods and secrets. He buys a Ferrari at an auction – despite always cycling to work and taking his co-workers coffee without paying – and at a party looks to impress mountain guide Natalia (Juana Acosta), telling her that he is soon to split from his girlfriend and that he will call her.
It is never quite clear what makes him tip over the edge and plan the crime – bickering with his girlfriend; arguments over his pay with bosses, a fleeting moment class prejudice – but when he does he is precise, organised and determined, and while the film never aims for dramatic thrills it is intriguing to see this taciturn and solitary man go about his business. Tough police recovered the bulk of the money, some Euro2.5 million is still missing, with Musulin set to be released in the next few years.
Production companies: Pan-Européenne, Wild Bunch

International sales: Wild Bunch, www.wildbunch.biz
Producers: Philippe Godeau, Baudoin Capet

Screenplay: Agnes Sacy, Philippe Godeau, adapted from Toni 11,6, Histoire du convoyeur, by Alice Geraud-Arfi

Cinematography: Michel Amathieu

Editor: Thierry Derocles

Production designer: Therese Ripaud

Main cast: Francois Cluzet, Corinne Masiero, Bouli Lanners, Juana Acosta, Stephan Wojtowicz