Dirs: Phil Lord, Christopher Miller. US. 2014. 111mins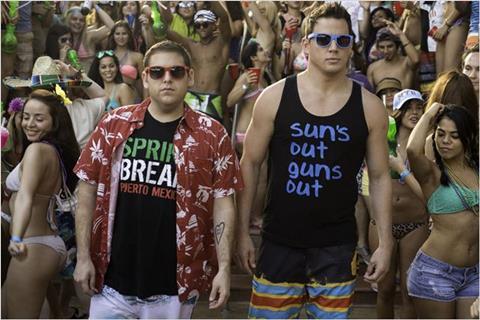 As sequels go, 22 Jump Street hits the nail fair and square on the head, coming up with a comedy-action delight that also slyly pokes more than a little fun at the notion of sequels. Sometimes the good-natured self-referencing gets in the way, but at its heart the film is a real pleasure, brimming with visual gags, clever word play and breezily silly action scenes and should see it more than overtake the $200million international total its clever – but less inspired – predecessor took.
Lord and Miller have real fun with the physical humour the plays a key part to the film.
The fact that stars (and producers) Jonah Hill and Channing Tatum share such an easy chemistry and are happy to poke fun at their established on-screen personas is what gives the film its innate charm. Add to that the visual mastery of directors Phil Lord and Christopher Miller (on a real box office roll after The Lego Movie) who really have some fun here and you have a film that revels in its formula while also having laughs at the very notion of a sequel.
Of course 21 Jump Street was something of a sequel itself, as it reimagined the 1980s series and transplanted itself to the big screen. The new film picks up just where the original finished (complete with a 'previously on…' montage, that includes a delightful reference to the Annie Hall 'lobster' scene) with undercover cops Schmidt (Hill) and Jenko (Tatum) sent off on another assignment, though this time to college rather than high school.
After letting drugs kingpin The Ghost (Peter Stormare) slip away they find themselves back on Jump Street, where the team, run by Captain Dickson (Ice Cube) has flashy new headquarters. (When Schmidt sees Dickson's glass office at the centre of the room he points out "its like a cube, made out of ice.")
Once again adopting the identity of brothers Brad and Doug McQuaid, Schmidt and Jenko head undercover to a local college to unearth the source of a new drug named 'whyphy' (cue wifi gags aplenty). Jenko quickly fits into with the jocks and is soon part of the local football team while Schmidt infiltrates the local slam poetry club and falls for beautiful art student Maya (Amber Stevens), but while their investigation is the core of the film, much more is spent on delving – very amusingly – into the nature of the relationship between the two men.
There are some lovely jokes about cop improvisation (Jenko hates it and Schmidt loves it) designed to poke fun at scripted or unscripted film comedy material and some nice fun to be had about their age and attitudes to college, but the film comes into its own when they debate the nature of their relationship and especially when their bromance hits the rocks and Jenko announces he thinks they should 'investigate' other people. These moments are a bit repetitive at times to be sure, but the humour and the performances are spot on.
Lord and Miller have real fun with the physical humour the plays a key part to the film. The balance between Jenko's easy athleticism (Tatum has the natural grace and ease) with Schmidt's awkwardness (Hill has fun struggling up stairs while Tatum clambers up the sides of buildings) is amusing while their drug-fuelled ninja-style break-in at the frat house is nicely staged. A chase scene between the pair in a helmet-shaped golf cart and the bad guys in a Hummer is delightful (and includes a visual/music reference to British comedian Benny Hill that may be lost on many viewers) and while there is an obligatory action-packed chase/shoot-out climax during Spring Break there are still enough laughs to make it feel original. Plus there is a Cate Blanchett joke to be treasured.
The strong support cast helps proceedings. A nicely shouty Ice Cube has more to do this time round; Keith and Kenny Lucas as a pair of half-black, half-Chinese stoner twins are hilarious, and Workaholics star Jillian Bell is wonderfully off-kilter as Maya's oddball roommate.
The closing credits are almost the highlight of the film as Lord and Miller poke even more fun at the notion of sequels as Schmidt/Hill and Jenko/Tatum are seen in an increasingly crazy series of sequels - cookery school, ninja school, Sunday school, flight school etc – that points the finger at Hollywood's well-documented love for a sequel. Saying that…don't be surprised if there isn't a 23 Jump Street at some stage soon.
Production companies: Columbia Pictures, Metro-Goldwyn-Mayer Pictures, LStar Capital, MRC, Original Film/Cannell Studios, Storyville/75 Year Plan Prods
Distribution: Sony Pictures
Producers: Neal H. Moritz, Jonah Hill, Channing Tatum
Executive producers: Stephen J. Cannell, Phil Lord, Christopher Miller, Tania Landau, Brian Bell, Reid Carolin, Ben Waisbern
Co-producer: Will Allegra.
Screenplay: Michael Bacall, Oren Uziel, Rodney Rothman, from a story by Michael Bacall, Jonah Hill, based on the television series 21 Jump Street created by Patrick Hasburgh and Stephen J. Cannell
Cinematography: Barry Peterson
Editors: David Rennie, Keith Brachmanm
Production designer: Steve Saklad
Music: Mark Mothersbaugh
Main cast: Jonah Hill, Channing Tatum, Peter Stormare, Wyatt Russell, Amber Stevens, Jillian Bell, Ice Cube, Keith Lucas, Kenny Lucas, Nick Offerman, Jimmy Tatro, Caroline Aaron, Craig Roberts, Marc Evan Jackson