Dir: Tomas Masin. Czech Republic-Germany-Slovak Republic. 110mins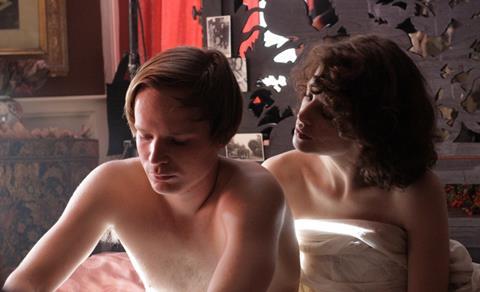 Tomas Masin's debut, an account of the communist regime taking over post-war Czechoslovakia, as perceived through the eyes of a young poet, clearly bears the marks of his background in advertising, featuring the kind of restless, impatient and nervous drive usually associated with publicity clips.
Energetic cutting, remarkable art direction and tour de force work by cinematographer Karl Oskarsson all attest to Masin's high technical and professional standards.
Colourful and eccentric, but very much in need of a solid script to rely on and too often tempted into excesses that draw characters away instead of endearing them on their audiences, Masin may find he is better appreciated at home. Festivals, though, should have a look. The film screened in the main competition section of the Karlovy Vary Film Festival.
In the space of three years (1947-9) - of which the first two are better defined as "raising hell" and only the third justifies the film's title - Masin's 19 year-old protagonist, Ivan Heinz (Hadek) crashes from his high delusions of bohemian artistic aspirations and Marxist freedom, all the way down to responsibility, jail and a spell in the loony bin.
His hyper-excited immaturity, like that of his friends, is nursed by the false impression that a new world is opening with the end of WWII, that they could turn Prague into their own Paris, and themselves into a generation of boldly creative geniuses, new Rimbauds, Verlaines or Picassos.
A strange love affair between Ivan and an orgiastic, perverse, orphan heiress (Gruszka), is shaped to look just like something drawn out of a decadent French novel, but the grim background finally forces the lovers not only to face reality but also to recognise the true emotions lying behind their spectacular defiance of all rules and regulations.
Energetic cutting, remarkable art direction and tour de force work by cinematographer Karl Oskarsson - admirably using black-and-white, muted colour pastels and everything in between, though the need to jump from one to another is not always evident - all attest to Maslin's high technical and professional standards. On the other hand, the script, based on poet Egon Bondy's autobiography, looks, at least in its first two acts, closer to a caricature than a sympathetic portrayal of the characters.
It constantly overstates its case, the cast is too often irritatingly required to underline the characteristics of their roles and only in the third act does the picture finally reach the internal balance it has been looking for all through.
Production company : Dawson Productions
International Sales: The Yellow Affair, www.yellowaffair.com
Producer: Monika Kristl
Screenplay: Tomas Masin, based on Egon Bondy's autobiography The First Two Years
Cinematography: Karl Oskarsson
Production designer: Martin Kurel
Editor: Petr Turyn
Music: Filip Jelinek
Main cast: Krystof Hadek, Karolina Gruszka, Martin Huba, Jan Kraus, Tomasz Tyndyk, Lubos Kostelny, Taha Pauholova