Dir: Ruben Fleischer. US. 2011. 83mins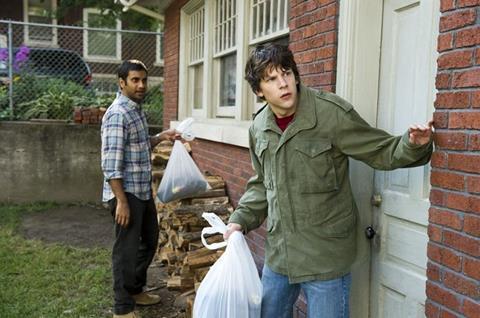 A tonally heightened comedy of criminal hijinks, misunderstanding and male bonding/reconciliation, 30 Minutes Or Less is a manic yet middling comedy that elicits a few laughs but mainly exudes the impression that a better, more rigorous treatment of the same wild concept could have yielded something truly special.
Director Ruben Fleischer never fully pins down the sort of convincing blend of comedy and action that marked his debut, Zombieland.
Seeking to mine the same vein between balanced action mayhem and outrageous comedy that three years ago made Pineapple Express a $100 million hit in virtually the same release slot, 30 Minutes Or Less may face strong target-demographic competition from Final Destination 5, which offers up cathartic, darkly amusing bloodletting. As with its thematic forerunners, the film should face dubious prospects overseas, but turn a tidy profit in home video and VOD markets.
Faced with an infringement of his loafing lifestyle, man-child Dwayne (Danny McBride) hatches a plot to kill off his military vet dad, known only as the Major (Fred Ward), so that he might inherit his dwindling lottery winnings. For his labyrinthine scheme, Dwayne ropes in his somewhat reluctant but highly impressionable best friend, Travis (Nick Swardson). Their plan involves strapping a bomb to an unsuspecting pizza delivery boy, and forcing him to rob a bank, so that they can then hire an assassin (Michael Peña), referred to them by a stripper, Juicy (Bianca Kajlich), to bump off the Major.
The unfortunate target in this warped idea is Nick (Jesse Eisenberg). When he's outfitted with an explosive device and given nine hours to execute said robbery, Nick turns to his recently estranged best friend, Chet (Aziz Ansari), for help, and they set off on a wild adventure in an effort to secure his freedom.
As improbable as it seems, the movie's story — or at least its central criminal conceit — is loosely based on a true story, of a Pennsylvania pizza deliveryman who in 2003 had a bomb strapped around his neck. In the hands of someone like the Coen brothers, Alexander Payne or Jason Reitman, one senses the opportunity for a subversive, pleasantly perverted and yet very human comedy. Instead, the makers of 30 Minutes Or Less opt for serial looniness and coarse language, often for the sake of empty shock. The movie moves forward fitfully, and all of its characters seem to know that they are in a comedy.
Director Ruben Fleischer never fully pins down the sort of convincing blend of comedy and action that marked his debut, Zombieland. A few moments of high-stakes/real world violence poke through (the movie definitely earns its Stateside "R" rating). But screenwriter Michael Diliberti also awkwardly shoehorns in a spat/rivalry centering around Nick's confessed attraction to and one-time dalliance with Chet's twin sister, Kate (Dilshad Vadsaria), that feels like a pointless exercise in "bromance" settlement. By and large, 30 Minutes Or Less exists in a hermetically sealed, stakes-free movie world, a fact only confirmed by a post-credits sequence which negates much of the film's proper ending.
None of the faults of 30 Minutes Or Less stick to the cast, and in fact many of them offer up moments of small delight. McBride is full of his characteristic bluster, but Swardson offers up a pleasantly underplayed dim bulb that stands apart from his usual shtick. Peña, meanwhile, takes a potentially thankless and stereotypical character and gives him his own amusing, eccentric, disruptive orbit.
Production companies: Columbia Pictures, Media Rights Capital, Red Hour Productions
Domestic distribution: Sony Pictures
Producers: Stuart Cornfeld, Ben Stiller, Jeremy Kramer
Executive producers: Monica Levinson, Brian Levy
Screenplay: Michael Diliberti
Based on a story by: Michael Diliberti and Matthew Sullivan
Cinematography: Jess Hall
Editor: Alan Baumgarten
Production designer: Maher Ahmad
Music: Ludwig Goransson
Website: www.30MinutesOrLess.com
Main cast: Jesse Eisenberg, Aziz Ansari, Danny McBride, Nick Swardson, Dilshad Vadsaria, Michael Peña, Bianca Kajlich, Fred Ward, Brett Gelman