Dir: Manoel de Oliveira. Portugal-France-Spain. 2009. 63mins.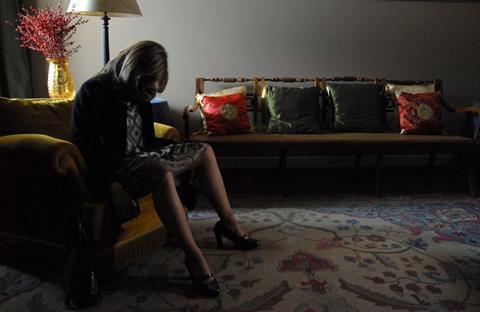 It has become a critical cliche to say that Manoel de Oliveira gets younger with every film, but it is true to say that the Benjamin Button of Portuguese cinema is getting ever friskier and more concise in his storytelling. De Oliveira celebrates his hundredth birthday with a blithe shaggy dog story that shows his storytelling at its simplest and most pleasurable. Eccentric running time and oblique, minimalist style will limit exports, but Oliveira fans should provide a solid enough niche audience, and festivals will honour the old maestro even more warmly than usual.
The eccentricities of the titular blonde are nothing compared with those of the narrative, which even by Oliveira's standards is roundabout and mischievous, in a stripped-down, almost telegraphic mode. Recounted at such a leisurely pace that you wonder how Oliveira will get through his tale in a mere 63 minutes, the film starts on a train bound for the Algarve, on which a stressed-looking traveler, Macario (Trepa), confides his experiences to a sympathetic stranger (Silveira).
Macario explains that he was once a Lisbon accountant working for his shop owner uncle Francisco (Doria). Flashbacks show us Macario's office, where one day he notices a young woman lolling seductively in the window opposite, waggling a distinctive Chinese fan. She is Luisa (Wallenstein), and Macario vows to marry her, but ends up penniless because of his uncle's disapproval. The determined Macario manages to make a fortune, then promptly loses it. Just as he is about to win Luisa, those eccentricities of hers blow everything sky high.
This ironically detached story of thwarted love gains a peculiar perspective from the fact that it is based on a 19th-century story, which - although Oliveira claims in opening titles to have updated it - markedly refuses to gel with the present-day setting. The story of star-crossed love blocked by an authoritarian uncle is hard to swallow in a modern perspective. Similarly, Macario's mission to the Cape Verde
Islands would have meant a lengthy sea voyage in the time of novelist Eca de Queiroz; in Oliveira's, it only means a return flight by TAP airlines.
The Oliveira repertory players are all present and correct here, notably a candid Trepa (the director's grandson) as the beleaguered hero, with Luis Miguel Cintra as himself reading a Pessoa poem at a literary soiree. Newcomer Catarina Wallenstein makes a sultry ingenue. Sabine Lancelin's precisely framed, gorgeously lit photography emphasizes the economic artificiality of this video-shot feature, and the end result is one of Oliveira's latterday best, a perfectly formed miniature.
Production companies
Filmes do Tejo II
Les Films d'Après-Midi
Eddie Saeta SA
International sales
Pyramide
(33) 1 42 96 02 20
Producers
Francois d'Artemare
Maria Joao Mayer
Luis Minarro
Screenplay
Manoel de Oliveira
Based on the novel by Eca de Queiroz
Cinematography
Sabeline Lancelin
Production design
Christian Marti
Jose Pedro Penha
Editors
Manoel de Oliveira
Catherine Krassovsky
Main cast
Ricardo Trepa
Catarina Wallenstein
Diogo Doria
Julia Buisel
Leonor Silveira
Luis Miguel Cintra