Dirs: Noel Clarke & Mark Davis. UK. 2010.117mins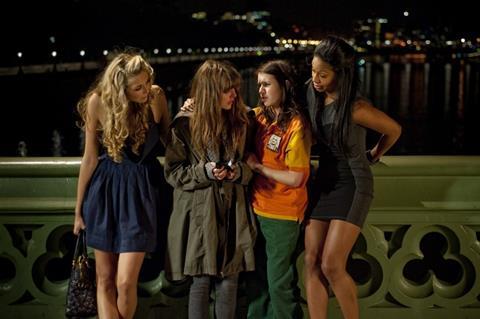 A cross-Atlantic caper movie involving four girls, a diamond robbery and an assassin, 4.3.2.1 is a frothy romp of a movie that is diverting if never completely convincing and shot in a super-frenetic pop-video style by co-directors Clarke and Davis. It has the sex-appeal and verve to work with a hip young audience, but the fact that it is style above substance might hamper international business.
4.3.2.1 is brimming with style and all-action verve.
Writer and co-director Noel Clarke has carved out an impressive multi-hyphenate career in the UK (writer of local hit Kidulthoood, writer-director of sequel Adulthood and actor in the likes of Dr Who, Centurion and Sex & Drugs & Rock & Roll), and is pretty smart when it comes to knowing his savvy young audience.
With 4.3.2.1 he has left the grittier street culture of the Kidulthood/Adulthood films behind and gone for all-out frenetic, glossy, and largely silly entertainment with crime romp 4.3.2.1. Teaming with Mark Davis (who directed Clark in the 2006 short Plastic) he has opted for a complex storyline that criss-crosses the Atlantic between New York and London and also switches – often haphazardly – between characters and plotlines.
The story hinges around four friends – the camera-friendly good-looking grouping of Emma Roberts, Tamsin Egerton, Ophelia Lovibond and Shanika Warren-Markland – who share their respective troubles and turmoils before writer Clarke adds in the plot-twist of a robbery and diamonds hidden in a Pringles container. Before you know it the storylines head off in four different directions (tracking the four girls) but criss-crossing as the diamond robbery has an impact on their respective lives.
The foursome are the film's driving force and are all pretty good. Emma Roberts is feisty and delightfully cast against type as a supermarket shelf-stacker; Tamsin Egerton (from the St Trinians' films) is perfect as the cool, sophisticated, blonde off to New York to meet an internet admirer; Lovibond is a little more clichéd as the troubled self-harmer, while Warren-Markland (who Clarke cast in Adulthood) is engagingly larger-than-life as the tough-talking, sassy lesbian.
There are also cameos from singer-actress Eve and from director Kevin Smith, who plays a troublesome airline passenger, while Mandy Patinkin also has a small role and UK actress Michelle Ryan (who played the Bionic Woman in the 2007 re-boot of the TV series) is striking as a gun-wielding assassin.
4.3.2.1 is brimming with style and all-action verve, while the frenetic camera-style, cross-cutting and and pounding music score do also help cover-up the story's deficiencies. But as a piece of rather daft entertainment it does deliver. Plus the good-looking young cast do look good on posters and trailers…which can only help.
Production companies: Unstoppable Entertainment, Retro-juice Productions, Atlantic Swiss Productions, Veneration Music
International sales: Icon Entertainment International, www.iconmovies.net
Producers: Damon Bryant, Noel Clarke, Mark Davis, Dean O'Toole
Executive producers: James Edward Barker, Johnny Fewings, Mark Foligno, Justin Lanchbury, Yoko Lytle, Steve Milne, Deepak Sikka
Screenplay: Noel Clarke
Cinematography: Franco Pezzino
Editor: Mark Everson
Production designer: Murray McKeown
Music: Adam Lewis, Barnaby Rosen
Main cast: Emma Roberts, Tamsin Egerton, Ophelia Lovibond, Shanika Warren-Markland, Noel Clarke, Michelle Ryan, Mandy Patinkin.