Dir/scr: Junichi Suzuki. Japan-US. 2010. 97mins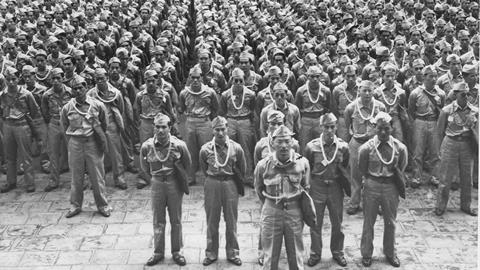 The fascinating documentary 442 – Live With Honor, Die With Dignity reveals the unsung heroism of the US Army's 442 Regiment, formed during World War II and made up of Japanese Americans, that went on to be the most decorated Regiment in the army.
The footage and photographs of the Japanese American soldiers in training and in battle are fascinating.
Showing at the Tokyo International Film Festival, the subject matter – which almost cries out for a drama version – is intriguing as it tackles prejudice and discrimination, though annoyingly writer/director Junichi Suzuki's voiceover script is too bland and repetitive to really bring out the best that this gripping real-life story has to offer.
Following the Japanese attack on Pearl Harbour the second generation Japanese (or 'Nissei' as they were known) were initially sent to internment camps (or 'concentration camps' as man of those interviewed recall them as). Eventually the US government decided to allow a Regiment to be formed, made up of new recruits, Japanese Americans who were in Army prior to Pearl Harbour and Hawaiian Japanese Americans, whose units had been disbanded after the attack.
Mentioned, but barely dwelt on, was the internal animosity between those from Hawaii and those from mainland US, though eventually the Regiment bonded together to act as a fierce fighting unit.
The 442 most famously saw action in Monte Cassino in Italy, when the 100th Battalion of the 442 Regiment lost half of its men in the bloody battle with entrenched German paratroopers. The victory was balanced with a sour taste when the remaining soldiers were not allowed to march on into Rome, and halted so that non-Japanese American soldiers could liberate the city.
The interviews with the remaining veterans is fascinating and often moving. They are genial and amusing, forthright in their love of America; modest about their achievements, and quick to praise those in internment camps to opted not to enter the Battalion. "They were brave in their own way," stressed one old soldier.
The footage and photographs of the Japanese American soldiers in training and in battle are fascinating, but one simply wishes for a more thoughtful script that told the story more clearly and didn't simply rely on repeating the line '10tth Battalion of the 442 Regiment' over and over again. But what stays with you is the quiet heroism of this group of men, who became known as the Purple Heart Regiment due to their amount of medals and astonishing bravery.
Production compaies: Film Voice, UTB
International sales: UTB, www.utb-filmvoice.com
Producers: Junichi Suzuki, Shigeto Terasaka
Executive producers: Ryuichi Suzuki, Toshiyasu Hayakawa
Co-executive prouducer: Tetsuo Koga
Associate producer/interviewer: Erika Jones
Cinematography: Masashi Kobuchi
Editor: Toru Mihara
Music: Kitaro