Dir: Carl Rinsch. US. 2013. 119mins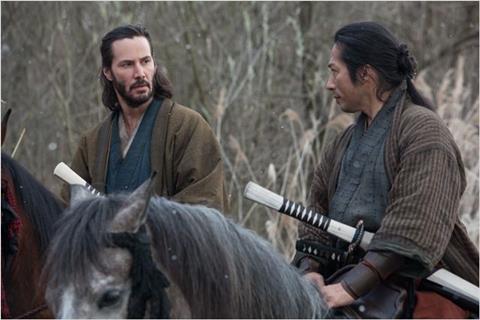 An unremarkable fantasy-adventure, 47 Ronin skimps on the samurai action and stumbles when trying to be about weightier themes such as honour and destiny. That's an unfortunate combination—and director Carl Rinsch's feature debut also doesn't help its cause by relying on an overly solemn tone as it depicts a famous Japanese tale about a group of warriors who banded together to avenge their fallen lord. Keanu Reeves provides his usual serene gravitas, but on the whole the dearth of ingenuity dulls what could have been hearty, escapist fare.
Saddled with a story that takes too long to get rolling 47 Ronin only intermittently springs to life during battle scenes.
This Universal Pictures release will try to cater to action aficionados who have already seen the Hobbit and Hunger Games sequels. With higher-profile films crowding the marketplace, 47 Ronin seems to be a niche offering, although Reeves's fans may help raises grosses. Nevertheless, dismissive word-of-mouth, coupled with the fact that Reeves isn't really the film's main character, will probably hinder 47 Ronin's theatrical prospects, leaving it to rely on ancillary moneys to make up for any shortfalls.
Set in 19th-century Japan, 47 Ronin stars Reeves as Kai, an orphan and aspiring samurai who has been treated like a second-class citizen because he's a so-called "half-breed," lacking the proper Japanese ancestry to be considered a warrior. But when the feudal lord Asano (Min Tanaka), who has looked after Kai since he was a teen, is tricked through witchcraft into bringing shame to his family and must commit suicide, it's up to Asano's samurai and Kai to get vengeance on the man behind their leader's fall from grace, the evil Lord Kira (Tadanobu Asano).
Based on a Japanese legend, 47 Ronin wants to be an imaginative story that mixes the stern code of the samurai with fantastical elements such as dragons, magic and witches. But beyond a certain visual pizzazz afforded by cinematographer John Mathieson and production designer Jan Roelfs, Rinsch's film doesn't show much ingenuity or energy. Saddled with a story that takes too long to get rolling—the first act is burdened with a drab romantic subplot concerning young Kai and Asano's daughter Mika (Ko Shibasaki as an adult)—47 Ronin only intermittently springs to life during battle scenes. But even then, there's very little inspiration to these sequences, which lack the grace and power of the martial-arts wizardry on display in Reeves's Matrix franchise and dozens of other movies that have come since.
Additionally, although the film's advertising leads one to assume that Reeves is 47 Ronin's centrepiece, Kai eventually becomes more of a secondary character. At first, it appears that 47 Ronin will preach a message of tolerance as those around Kai learn to adopt this "half-breed" into their ranks. (Kai also must rescue his beloved Mika, who is being forced to marry Kira now that he rules all of Asano's old lands.) But soon the story shifts, to little dramatic effect, to Oishi (Hiroyuki Sanada), Asano's former right-hand man who wants to kill Kira to avenge his fallen master.
Sanada plays Oishi with a calm focus, but there's not enough dimension to the character. Likewise, Kai is a blandly tortured hero: No matter how much pathos Reeves brings to his scenes with Shibasaki, 47 Ronin doesn't display much of a romantic pulse. Whether it's the action or the drama, 47 Ronin radiates a videogame artificiality that undercuts Rinsch's desire to deliver a grand period epic.
Some of these grumblings might have been mitigated by the filmmakers' willingness to inject a sense of risk or strangeness into the proceedings. Sadly, Rinsch's only allowance for the bizarre is casting Rinko Kikuchi as a vampy witch who assists Kira in his nefarious plot to wipe out his enemies. Kikuchi severely overplays her character's campy-seductress shtick, but as opposed to 47 Ronin's other cast members, who tend to be glum in an attempt to seem noble, at least she doesn't blend into the background.
Production company: Relativity Media
US distribution: Universal Pictures, www.universalpictures.com
Producers: Pamela Abdy, Eric McLeod
Executive producers: Scott Stuber, Chris Fenton, Walter Hamada
Screenplay: Chris Morgan and Hossein Amini, screen story by Chris Morgan & Walter Hamada
Cinematography: John Mathieson
Production designer: Jan Roelfs
Editor: Stuart Baird
Music: Ilan Eshkeri
Website: www.47roninmovie.com
Main Cast: Keanu Reeves, Hiroyuki Sanada, Tadanobu Asano, Rinko Kikuchi, Ko Shibasaki, Min Tanaka, Cary-Hiroyuki Tagawa