Dir:Marc Webb. US. 2009. 95 mins.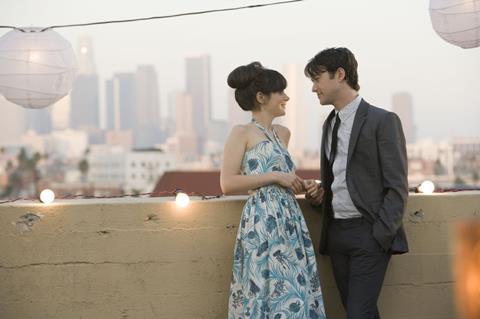 Rethinking romantic-comedy conventions with a sharp eye and a soft heart, 500 Days Of Summer is an immensely pleasurable love story about two young people with a deep connection but an uncertain future. Making his feature debut, director Marc Webb guides Joseph Gordon-Levitt and Zooey Deschanel through a chronologically-scrambled narrative which traces the joys and sorrows of two appealing, well-drawn characters.
Set for US distribution through Fox Searchlight on July 24, 500 Days of Summer looks like a certain counter-programming hit during the summer, with breakout potential a definite possibility.
Bored greeting-card employee Tom (Gordon-Levitt) instantly falls for Summer (Deschanel), the company's latest employee. Flipping back and forth between key moments in the next 500 days, the film shows how Tom tries to win Summer's heart, despite her initial warning that she's not looking for a serious relationship.
Armed with a breezy though substantive script by Scott Neustadter and Michael H. Weber, 500 Days Of Summer is that rare mainstream romantic comedy which tries unusual storytelling techniques without getting bogged-down in its own cleverness. Beyond the conceit of rewinding and fast-forwarding through time, director Mike Webb (known primarily as a music-video director) incorporates an omnipotent narrator (voiced by Richard McGonagle), split-screens to contrast Tom's expectations with the actual reality of the situation, and a very amusing impromptu musical-dance number.
While it doesn't have the same artistic heft as Woody Allen's brilliant Annie Hall, 500 Days Of Summer does share with that melancholy film a desire to use unconventional narrative techniques to aggressively examine the mysteries of the human heart, offering fresh insights on the typical boy-meets-girl scenario. Though the film doesn't take itself too seriously, 500 Days Of Summer is an intelligent probing of the difficulties of anyone's first grownup relationship. Thankfully, Webb displays a light touch with the movie's more dramatic moments, maintaining an engaging tone throughout.
The two lead performances are superb. Joseph Gordon-Levitt has emerged as a promising indie-film actor through roles in Brick and The Lookout, but this likeable, sympathetic turn as the insecure Tom promises to introduce him to a much larger audience. Tom could come off as a whiny wimp as he tries to keep Summer in his life, but Gordon-Levitt makes him an intelligent, albeit emotionally-immature young man. Likewise, Zooey Deschanel has a difficult assignment playing the guarded Summer. The actress skilfully reveals her character to be an honest woman who knows what she wants in life - which makes her very real feelings for Tom all the more difficult for her but all the more intriguing for the audience.
Production company
Watermark
Domestic distribution
Fox Searchlight Pictures
Producers
Jessica Tuchinsky
Mary Waters
Mason Novick
Steven J. Wolfe
Screenplay
Scott Neustadter
Michael H. Weber
Cinematography
Eric Steelberg
Production designer
Laura Fox
Editor
Alan Edward Bell
Music
Mychael Danna
Rob Simonsen
Main cast:
Joseph Gordon-Levitt
Zooey Deschanel
Geoffrey Arend
Chloe Grace Moretz
Matthew Gray Gubler
Clark Gregg
Rachel Boston
Minka Kelly