Dirs. Arnaud & Jean-Marie Larrieu. France/Spain, 2009. 134 min.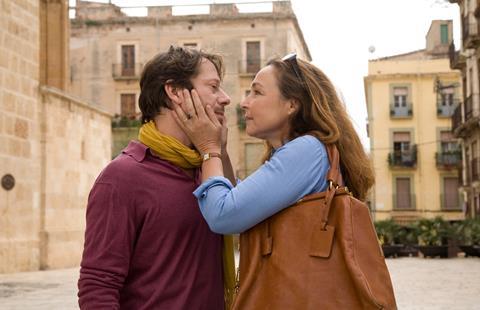 The first impression is of total chaos; the second of complete narrative mess. Once the audience gets past this, there are two choices left: either make a beeline for the exit or abandon any hope of logic and go along for the ride, enjoying the pretty scenery and beautiful bodies of This Is The End along the way.
The Larrieu brothers indulge in a narrative freedom throughout that veers alarmingly close to anarchy
This is an opulent film, technically smooth and with a solid cast including Mathieu Amalric, Sergi Lopez and Karin Viard – by its very nature it should be playing to mass audiences on the big screen. The Larrieu siblings have taken their team from France and Spain to even Taiwan and Canada, spending lavishly en route. But the best chance here is an arthouse outing for select audiences in a film which veers close to pure anarchy.
The end of the world is at hand, and, in typical French fashion, it involves beaucoup sex of all varieties, taking "l'amour a mort" to its logical conclusion, with much wine imbibed en route.
The film's lead is Robinson (Amalric), who sells Taiwanese bathtubs and falls in love with an androgynous young woman called Laetitia (Dominican fashion model Mota), and leaves his wife (Viard) and daughter to pursue her across the globe.
The world is collapsing all around him in a hodge-podge combination of terrorism, ecological and nuclear catastrophes, hurricanes and political corruption, but he is impervious to all this in his obsessive search for Mota, who helpfully keeps disappearing.
While completely besotted with the image of one woman, he gladly services anyone else who offers themselves up along the way, from a Biarritz shop keeper, Chloe (Frot), who had had an affair with his late father, to a luscious bar tender, Iris (Hesme) recovering from a hot night with her father (Lopez), and his even own ex-wife.
This is all related in two separate periods, the present - in which Robinson is missing one arm – and the past, from when he first meets Laetitia. The Larrieu brothers, working from a novel by Dominique Noguez, indulge in a narrative freedom throughout that veers alarmingly close to anarchy.
Described by its authors as a celebration of Eros and Thanathos (love and death), This Is The End is an unbridled, inconclusive, vaguely sci-fi madcap adventure. Amalric, a fine actor, looks completely bemused by the requirements of his part. The women who throw themselves at him seem totally immersed in their own affairs and use him mostly for sexual relief. Cinematographer Thierry Arbogast provides some great travelogue footage – a sequence with the bulls at Pamplona is notably well-directed and captured. A collection of Leo Ferre ballads adds a whiff of poetic pretense.
To sign up for Screen's weekly Reviews Newsletter with new releases, international openings and full festival reviews delivered free to your mailbox every Friday, please click HERE

Production companies
Soudaine Campagnie
Arena Films
France 2 Cinema
Mallerich Films
Estrategia Audiovisual
Producer
Bruno Pesery
International Sales
Wild Bunch
+33 1 53 01 50 30
Screenplay
Arnaud & Jean-Marie Larrieu, from the novel by Dominique Noguez
Cinematography
Thierry Arbogast
Production design
Ana Alva-Gonzalez
Riton Dupire-Clement
Stephane Thiebaut
Editor
Annette Dutertre
Main Cast
Mathieu Amalric
Catherine Frot
Sergi Lopez
Karin Viard
Clotilde Hesme
Omahrya Mota
Pierre Pellet
Manon Beaucoin