Dir. Oskar Roehler. Austria/Germany. 2010. 114mins.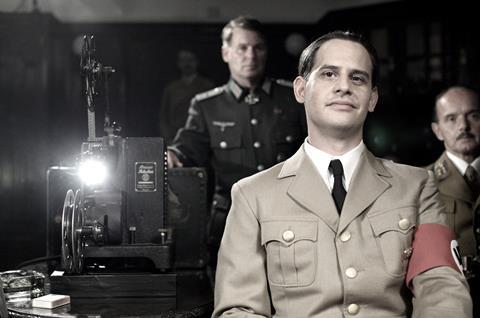 Perhaps it is naïve to think that one of the chief reasons for developing this project was cathartic; social therapy by reconstruction. It tells the story of the complex and conflicted actor Ferdinand Marian who starred in one of the Third Reich's most offensive—and commercially successful—propaganda films, Jew Suss.
Comparisons to Mephisto are inevitable; Tobias Moretti gives Klaus Maria Brandauer a run for his money
The Nazi film, pushed by Goebbels and directed by Veit Harlan, was the bastardisation of a source novel by Jewish writer Lionel Feuchtwanger. In their version, Joseph Suss Oppenheimer is a powerful, manipulative Jewish businessman in the early 18th century who exploits the masses and pays the supreme penalty as the result. Supporting Jewish characters are exaggerated Hasids and Orthodox Jews, cardboard cutouts serving little purpose other than to maintain popular support for a systematic plan to eliminate Jews from society.
With Jew Suss: Rise And Fall, however, screenwriter Klaus Richter and director Roehler (Agnes and His Brothers, The Elementary Particles) have merely inverted that agenda. Now the Nazi politicians, soldiers, and sympathisers are the caricatures. They come across more like performers in The Great Dictator or The Producers than full-blooded people, responsible for, or affected by, a perverse ideology of blame and hatred. The fine actor Bleibtrau, for example, chews up the scenery, overplaying Goebbels as a screaming speed freak.
The only actors who, for the most part, steer clear of this tendency are Tobias Moretti, intense but not overdetermined as the handsome womanizer Ferdinand Marian, and Martina Gedeck as his patient, part-Jewish wife Anna, a model of restraint among a cast plugged in to overkill. (The recurring scenes of various female characters in aggressive sexual mode are so absurd that they border on kitsch). Comparisons to Istvan Szabo's Mephisto are inevitable; Moretti gives Klaus Maria Brandauer a run for his money, but Jew Suss is far inferior as a piece of cinema.
Another major problem for Jew Suss: Rise And Fall is the style, which appropriates elements from the German Expressionist movement in silent cinema and postwar Hollywood film noir. The pools of darkness in film noir were often meant to hide their meager cost: one could not see the sparseness of props. Oblique angles and dark shadows were indicators of underlying sociological dysfunction in a nation smug from its victory in war that was blindly heading down the path of conspicuous consumption.
In Jew Suss: Rise And Fall, these techniques are there without justification, as if the key creative players had put their collective imaginations on hold. The abundance of mirror effects and such cheesy production decisions as placing chandeliers at the top of the frame seem inserted to make the film seem more expensive, more grandiose than it is. An underpopulated feel permeates the enterprise, which of course only serves to foreground the overacting. Even graceful camera movements and subtle, desaturated colour that almost makes it feel as if it were shot in period black and white can not mask an unengaging, studio-shot canvas that is more television than film.
Commercial prospects outside of Germany and Austria seem sparse. Jew Suss: Rise And Fall does seem to scream out for box-office attention from German-speaking audiences by focusing on such known quantities as the great actors Heinrich Georg and Werner Krauss, both Nazi Party members; Harlan's beautiful film-star wife, Kristina Soderbaum; and popular Swedish singer Zarah Leander, a Hitler favorite who did her part for the National Socialists as a cheap replacement for Marlene Dietrich. Few viewers in other territories would know who they are.
To sign up for Screen's weekly Reviews Newsletter with all the week's new releases, international openings and full festival reviews delivered free to your mailbox every Friday, please click HERE
Production companies
Novotny & Novotny Filmproduktion
Clasart Filmproduktion
Tele Munchen
International sales
TF1 International
+33 1 41412168
Producers
Franz Novotny
Markus Zimmer
Screenplay
Klaus Richter
Cinematography
Carl F. Koschnick
Editor
Bettina Bohler
Production design
Isidor Wimmer
Music
Martin Todsharow
Main cast
Tobias Moretti
Martina Gedeck
Moritz Bleibtreu
Justus von Dohnanyi
Armin Rohde
Anna Unterberger
Paula Kalenberg