Dir: Stephen Frears. UK. 2010. 109mins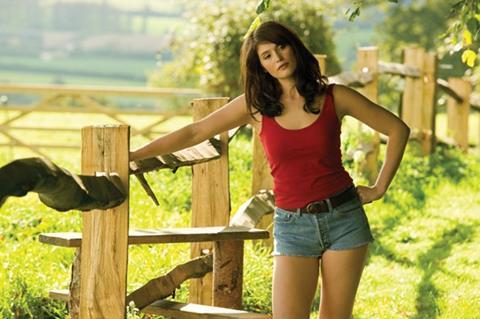 There's a whole lot of fun to be had with Tamara Drewe…a charmingly entertaining film that sees director Stephen Frears in relaxed and funny form and flavour-of-the-moment actress Gemma Arterton delivering a sweet and smart performance. It is a fresh and witty film that also delves into a little darkness from time-to-time, but looks like it should deliver audiences as well as strong reviews.
To a large degree this is Gemma Arterton's film and here she shows a steely and easy charm that enraptures the village men.
On one hand Frears might appear to be a less than obvious director to take on an adaptation of a comic strip - his most recent films have included The Queen and Cheri - but he has always been at his best with subtle comedy, and let's face it - Tamara Drewe is no simple comic strip about superheroes or other less than heroic characters.
Rather the acclaimed strip, created by Posy Simmonds for the UK's The Guardian newspaper, is a modern reworking of Thomas Hardy's 19th century novel Far From The Madding Crowd, and is an astute and engaging pastoral comedy set against the bucolic backdrop of the verdant English countryside.
Newspaper journalist Tamara Drewe (Arterton) returns to her sleepy rural Dorset village home after the death of her mother to renovate and sell the family home. She had left as an awkward young thing, but returns (with sparkling new nose job) as a media celebrity and smouldering femme fatale.
Her arrival sparks interest amongst the males of the community…such as philandering fiftysomething thriller writer Nicholas Hardiment (Roger Allam), who once spurned the teenage Tamara; her former boyfriend Andy Cobb (Luke Evans), now a local handyman at the village's writer's retreat, and teen idol rock musician Ben Sergeant (Dominic Cooper), who had moved to the village to be near her after she had interviewed him at a music festival.
As autumn moves onto spring and summer Tamara sets about writing and autobiographical novel, and the various men vie for her attention in different ways. The romantic machinations provide plenty to interest for visiting American Thomas Hardy scholar Glen McGrevy (Bill Camp), and other writers at the retreat.
Moira Buffini's smart adaptation of Posy Simmond's comic strip perfectly suits Frears (who shows suitable appreciation of the source material by sometimes shooting scenes that look to be panel-for-panel shots from the comic) who subtly allows the comedy to bubble to the surface, and makes great use of his strong cast, with Roger Allam especially good as the crumpled thriller writer.
But to a large degree this is Gemma Arterton's film. She has gone the Hollywood route and played feisty femmes in Prince of Persia: The Sands Of Time and Clash Of The Titans as well as playing it down-and-gritty in The Disappearance Of Alice Creed, but here she shows a steely and easy charm that enraptures the village men.

Production companies: Ruby Films, Notting Hill Films, BBC Films, WestEnd Films, UK Film Council
International sales: WestEnd Films, www.westendfilms.com
Producers: Alison Owen, Tracey Seaward, Paul Trijbits
Executive producers Maya Amsellem, Sharon Harel, Christine Langan
Screenplay: Moira Buffini, based on the graphic novel by Posy Simmonds
Cinematography: Ben Davis
Production designer: Alan Macdonald
Editor: Mick Audsley
Music: Alexandre Desplat
Main cast: Gemma Arterton, Roger Allam, Dominic Cooper, Bill Camp, Luke Evans, Tamsin Greig, Jessica Barden