Other winners included Norwegian drama Blind, Danish horror When Animals Dream and Nick Cave doc 20,000 Days On Earth.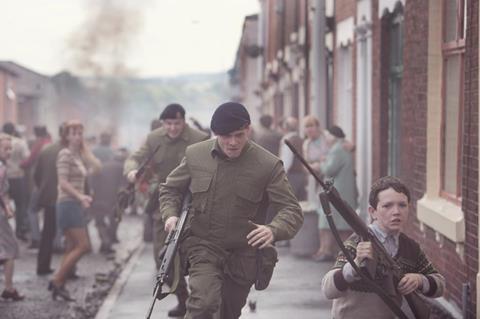 Yann Demange's '71 has won the best film award – the Golden Athena – at the 20th Athens International Film Festival (Sept 17-28).
The film, co-produced by Crab Apple Films, Protagonist Pictures and Warp Films, stars Jack O'Connell as a soldier left behind enemy lines in Belfast during the height of the Troubles.
It debuted at the Berlinale in February and more recently played at Toronto.
The AIFF awards ceremony also saw Eskil Vogt win the best director trophy for Norwegian drama Blind.
The film, which previously won awards at Berlin and Sundance (where it debuted), is about a recently blind woman who fears and fantasies begin to take over her life.
Blind marks Vogt's directorial debut following a screenwriting career that has included Reprise (2006), Oslo, August 31st (2011) and Joachim Trier's upcoming Louder Than Bombs. It was co-produced by Lemming Film and Motleys.
The best screenplay award went to Danish horror When Animals Dream, directed by Jonas Alexander Arnby and written by Rasmus Birch.
The awards were decided by a five-member Youth Jury comprised of cinema students.
Music & Films
In the Music & Films competition, Nick Cave documentary 20,000 Days On Earth, directed by Iain Forsyth and Jane Pollard, won the Golden Athena for best film.
A special mention went to Florian Habicht's Pulp: A Film about Life, Death and Supermarkets.
The Music & Films jury was presided over by the British Council's Briony Hanson and also included Oliver Baumgarten from the Berlinale, Israeli film scholar Pablo Utin and radio programming director Katerina Kafentzi.
Greek awards
Further trophies were handed out to Greek features and short films.
Michalis Konstantatos was named best debut director for Luton, which follows three very different people who each are pushed to breaking point through psychological pressure.
Sofia Kokkali and Penelope Tsilika were named best female debutant actresses for their part in Pandelis Voulgaris' latest Mikra Anglia (Little England). The film recently won the four main awards at the Shanghai International Film Festival and has been submitted by Greece for the Best Foreign-Language Oscar.
Haris Frangoulis was named best debutant actor in Nicholas Triandafyllidis' Oi aisthimaties (The Sentimentalists).
Distribution deals
A number of titles in the Premieres and Panorama sections were attached to local distributors. Among them, Don McKellar's The Grand Seduction (NEO films), Edward Berger's Jack (StraDa Films), Dietrich Bruggemann's Stations of the Cross (Seven Films-Spentzos Films), Michael Dowse's What If (NEO films) and Athanasios Karanikolas' At Home (Sto spiti) (One From the Heart).
Closing film
David Fincher's US crime drama Gone Girl received its European premiere as the closing film of the festival.
AIFF celebrated its 20th anniversary with a record 241 titles selected by artistic director Orestis Andreadakis.
Next year's festival dates are Sept 16-27.