Cult status and extended cable life are definite possibilities for this dim-bulb comedy reboot of a beloved 70s TV show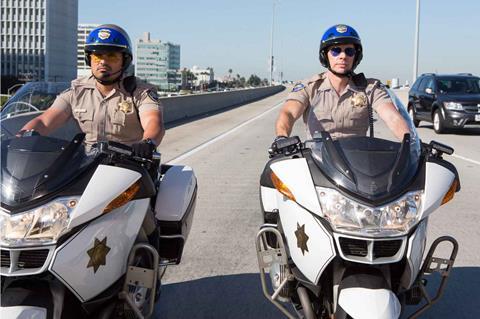 Dir: Dax Shepard. US. 2017. 100mins
A grab bag of vulgarities, sex jokes, slapstick, nudity and chase scenes, the action-comedy CHIPS holds together better than expected, thanks largely to the goofy, dim-bulb rapport between stars Dax Shepard and Michael Peña. But while this big-screen adaptation of the American television series has its share of juvenile laughs, the intermittent hilarity is merely a distraction from how disposable and uninspired the rest of the film is.
CHiPS can be quite funny in shamelessly stupid ways
Opening in the US and UK on March 24, CHIPS clearly hopes to follow in the footsteps of another R-rated revival of a beloved (and cheesy) TV cop drama, 21 Jump Street. Shepard and Peña's names have some pull with audiences, and although major theatrical grosses seem unlikely, cult status and extended cable life are definite possibilities.
Peña plays Castillo, a FBI agent in Miami sent undercover to Los Angeles to investigate a heist that his superiors believe may have been hatched by rogue cops within the California Highway Patrol. Posing as Frank "Ponch" Poncherello, Castillo becomes partners with Jon Baker (Shepard), a former motorbike champion who's hoping that joining the CHP will impress his distant wife (Kristen Bell).
Soon, Baker and Ponch find themselves in the middle of a high-octane investigation, which leads them to a crooked cop named Kurtz (Vincent D'Onofrio), even though the particulars of the case aren't terribly interesting. Directed and written by Shepard, based on the series created by Rick Rosner that ran from 1977 until 1983, CHIPS has a few plot twists, but there's very little suspense or surprise in the storytelling. Rather, the narrative is merely a wobbly platform to allow Shepard to throw countless gags at the audience, leaning heavily on jokes about gay panic and kinky sexual proclivities.
Not surprisingly, the movie is undisciplined, its pacing often laboured and its characters paper-thin. Within that underwhelming framework, though, CHIPS can be quite funny in shamelessly stupid ways. The film's running jokes include everything from Castillo's former partner (played by an exasperated Adam Brody) consistently getting shot by his colleague to the myriad physical difficulties Baker faces because he got injured so often as a motorcyclist. The furthest thing from witty, CHIPS' laughs start off lowbrow and descend from there, practically daring viewers to chuckle at gags so sophomoric or crude that they almost have a boyish innocence to them.
Like the bumbling partners in the 21 Jump Street films, Shepard and Peña make for believable, humorous buffoons, and much of CHIPS' comedic momentum stems from Baker and Ponch fouling things up. Ponch may be the more seasoned lawman, but he has a debilitating sex addiction that makes it hard for him to focus, even in the middle of a high-speed chase, while the rookie Baker knows how to ride a bike but is dreadful at just about every other aspect of being a cop. The sincerity of their idiocy — with Peña providing superb slow-burn anger whenever his partner screws up — is a consistent, moderate pleasure in this otherwise slapdash movie.
Shepard previously wrote and directed 2012's Hit And Run, an otherwise negligible action-comedy distinguished by some adrenalised car chases. He brings that passion to CHIPS, resulting in some diverting sequences in which our heroes jump on their motorcycles and pursue the bad guys across L.A.'s complicated freeway system. There's propulsion and excitement in these moments, and while CHIPS offers no real stakes or emotional investment, such sequences briefly create the illusion that anything that occurs on screen actually matters.
Because Shepard doesn't much care about the nuts and bolts of the partners' investigation, D'Onofrio is wasted as their snarling adversary. Rosa Salazar plays a fellow CHP officer with a thing for Baker, and she's a fun, flirty presence. Shepard's real-life wife Bell has been encouraged to portray Baker's estranged spouse with maximum bitchiness, and the actress gives it her all. But the real love story is between Baker and Ponch, who try to bond when they're not busy arguing about whether it's homophobic to not want to touch genitals while hugging.
Production companies: RatPac-Dune Entertainment, Andrew Panay Productions
Worldwide distribution: Warner Bros., www.warnerbros.com
Producers: Andrew Panay, Ravi Mehta
Executive producers: Robert J. Dohrmann, Nate Tuck, Rick Rosner, Michael Peña, Dax Shepard, Steven Mnuchin
Screenplay: Dax Shepard, based on the television series created by Rick Rosner
Cinematography: Mitchell Amundsen
Production design: Maher Ahmad
Editor: Dan Lebental
Music: Fil Eisler
Website: www.chipsthemovie.com
Main Cast: Dax Shepard, Michael Peña, Rosa Salazar, Adam Brody, Kristen Bell, Vincent D'Onofrio