Dir/scr: Albert Dupontel. France. 2013. 82mins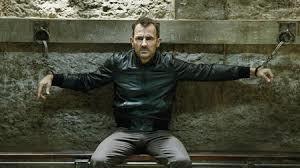 A broad, somewhat laboured, French comedy about a 40-year-old workaholic judge who finds herself knocked up but can't even remember having sex – with a career criminal – 9-Month Stretch (9 Mois Ferme) is comedian-actor Albert Dupontel's second film as director after Le Vilain.
9-Month Stretch is a heavily-stylised film, surprising for a broad comedy.
Dupontel's knockabout farce, which stars Sandrine Kiberlain, should have a greater appeal at home in France and European French-speaking territories, where it may attract a wide audience. But while pregnancy comedies have a history of successful delivery in the international marketplace, from the tenderness of Juno to the bawdier Knocked Up, 9-Month Stretch frequently relies on the type of slapstick and speech impediment gags which work so well at home for films such as Welcome To The Sticks but don't always translate in overseas markets.
Dupontel, who started out as a stand-up comic but whose acting work is also familiar from films such as Irreversible and Le Grand Soir, also stars as a career-criminal who impregnates the frosty, somewhat shrill judge, who is on a fast-track to the court of appeals and has no time for a personal life.
9-Month Stretch is a heavily-stylised film, surprising for a broad comedy. Drenched in reds and oranges, it has a busy perspective on its principals – whom the camera rarely tackles head-on. Shots are skewed with diagonals, the frame is mostly at an angle, and often cinematographer Vincent Mathias circles his subjects, aiming for an off-kilter approach to match the events onscreen.
Judge Ariane Felder (Kiberlain) lets her guard down at the Bar's New Year's Eve party only to suddenly discover six months later that she is pregnant. Security cameras eventually provide her with the answer: on her way home that night, she detoured via the red light district where she had spontaneous sex with cat burglar Bob Nolan (Dupontel).
Now he's appearing in front of her charged with the crimes of notorious criminal "The Eye Gobbler" who has cartoonishly dismembered and eaten one of his elderly victims. Nolan's attorney (Marie) is afflicted with a serious speech impediment, which isn't helping his case, so Bob forms a pact with Ariane that he'll keep quiet about their interlude if she will help him prove his mistaken identity. Much hilarity ensues in which people often are hit by falling objects.
9-Month Stretch played at the San Sebastian Film Festival and will open in France on October 16.
Production company: ADCB Films
International sales: Elle Driver, sales@elledriver.eu
Producer: Catherine Bozorgan
Cinematography: Vincent Mathias
Editor: Christophe Pinel
Music: Christophe Julien
Production designer: Pierre Queffelean
Main cast: Sandrine Kiberlain, Albert Dupontel., Nicolas Marie, Ohilippe Uchan, Philippe Duquesne, Bouli Lanners, Christian Hecq