Dir: Cedric Kahn. France-Canada. 2011. 105mins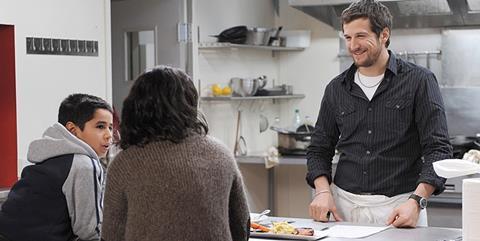 Despite a deceptively happy ending pretending to suggest there might be hope after all, the clouds covering the skies of the disinherited have no silver lining in Cedric Kahn's intense but dark love story.
Kahn keeps a firm hand on the story, convincingly painting the portrait of a hostile world in which such commodities as friendship and compassion are strictly limited.
Part romance, part social comment, his script suggests that in today's world, all the poor can look forward to is getting poorer, just like his two protagonists, a chef and a waitress, who dare dream of a better life only to be cruelly punished for it. Played with abandon by Guillaume Canet and Leila Bekhti, with some scenes stolen from under their noses by young Slimane Khettabi, A Better Life (Une vie meilleure) should do well in francophone territories despite its ultimate downbeat message.
Yann (Canet), a young cook, obstinate and ambitious, and his girlfriend, Nadia (Bekhti), a waitress with a 9 years old son, Slimane (Khettabi), decide to embark on what seems to be a promising adventure. They had found a pavilion in the woods which could become an ideal spot for a quiet restaurant away from the madding crowd. Yann had grown up in foster homes, graduated as a chef but couldn't find a decent job in Paris.
Nadia had her son back in Lebanon but once his father left her and her family rejected her, she escaped with him to wait tables in Paris. Together, Yann and Nadia possess all the energy, enthusiasm and love needed to start their new life and their new venture.
The only thing they lack is cash, which should be easily available for such evidently sound projects like theirs. They just need to make a few loans, sign a few papers and the future is theirs. But poor people are patsies the banks feed on, with the loan shark vultures eating everything left.
Dragged down by payments and interests they can't cope with, the couple cracks. Yann stubbornly refuses to give up his dream though he has no idea how to keep it alive. Nadia prefers to accept a job in Canada and leaves her son with Yann until she settles down, a month at the most and then she will send for him. But the month goes by, many more follow, first they talk on Skype, then she fades away without a trace.
Harnessed with a boy not his own, cheated out of the property he never really possessed and finding himself not only without a penny but still owing a small fortune to the bank, Yann finally realizes his only hope is to run away as well and together with Slimane they go looking for Nadia, hoping to restart the family unit that had been disintegrated before it could exist.
Kahn, working from a script he wrote with Catherine Paille, faithfully traces the painful, inexorable downward journey of two young people who start by being happily and insouciantly in love, but are sharply slapped down the moment they aspire to improve their lot. The system works against them, their innocence is a liability, but the ending, which hints they could start again, fails to specify how, unless they meekly accept to never step off the humble beaten tracks once again. However, given Yann's impulsive character, meekness does not seem to be an option.
However, up to this point, Kahn keeps a firm hand on the story, convincingly painting the portrait of a hostile world in which such commodities as friendship and compassion are strictly limited. He elicits fine performances from both Canet and Bekhti and when she is off the screen, he subtly develops the relationship between Canet and young Khettabi, who are forced to live together by circumstances they do not control, sometimes hating each other and yet having no one else to rely on, until a real and deep affection is established between them. For their sake, one would like to believe Kahn is right about the end.

Production companies: Les Films du Lendemain, Maia Cinema, Cinemaginaire
Producer: Kristina Larsen
International Sales: Wild Bunch, www.wildbunch.biz
Screenplay: Cedric Kahn, Catherine Paille
Cinematography: Pascal Marti
Editing: Simon Jacquet
Production designer: Francois Abelanet, Emmanuel Frechette
Music: Akido
Main cast: Guillaume Canet, Leila Bekhti, Slimane Khettabi