Priscilla Queen Of The Desert director Stephan Elliott is currently shooting his latest film, a comedy about a group of English friends attending a wedding in Australia, which has already secured an impressive number of pre-sales.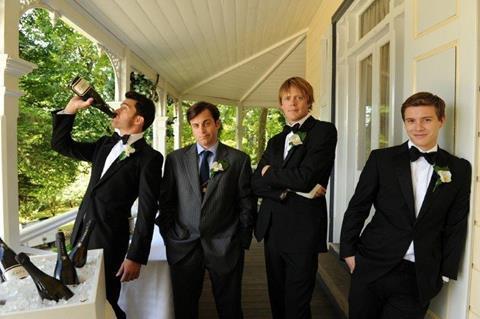 Director: Stephan Elliott
Producers: Laurence Malkin, Share Stallings, Gary Hamilton, Antonia Barnard
Screenplay: Dean Craig
Plot synopsis: When Englishman David announces he is getting married to an Australian, his three best men nearly turn what should be the best day of his life into his worst.
Backers: Screen Australia, Screen NSW, Ingenious, Quickfire
Locations: Sydney and the Blue Mountains
Shooting dates: January 17-March 4, 2010
Cast: Xavier Samuel, Kris Marshall, Kevin Bishop, Olivia Newton-John, Laura Brent, Tim Draxl, Steve Le Marquand, Rebel Wilson, Jonathan Biggins.
Distributors: Tele Munchen-Corcorde (Germany), Samfilm (Iceland), Forum Film (Israel), DEA Planeta (Spain), Aqua-Pinema (Turkey), Italia Film (Middle East), Icon (Australia, New Zealand), Pyramide (France), Lucky Red (Italy), Modus Vivendi (Bulgaria, Czech Republic, Hungary, Poland, Romania, ex-Yugoslavia) and Ledafilms (Latin America).
International sales: Arclight Films
Release date: A sales promo is likely to be available at Cannes.
Arclight Films is selling the wedding comedy A Few Best Men as being from the writer and producers of Death At A Funeral and the director of Priscilla Queen of the Desert. The number of pre-sales confirms it's a compelling proposition: with cameras rolling in Sydney, 17 territories have been sold.
"We knew after reading the script that this was going to be a presale title and, once Stephan came on board to direct, the buyers were very enthusiastic and willing to buy," says Mark Lindsay, president of sales and acquisitions at Arclight Films. "The writer Dean Craig is a master of comic timing and … Stephan is known for making commercially successful comedies."
The story centres around three English guys who cause havoc at the wedding of their friend (and fellow Englishman) David who is getting married in Australia. The Media, Entertainment and Arts Alliance wanted only one import, says Elliott, but two were secured: the UK's Kris Marshall and Kevin Bishop, playing alongside Australians Tim Draxl and, as the groom, Xavier Samuel.
US producers Share Stallings and Laurence Malkin are the producers being spruiked by Arclight. Malkin, who divides his time between LA and Amsterdam, had originally hired Craig as his London reader until realising his real talent was writing his own scripts.
The pair first partnered on Caffeine, then Death At A Funeral, then the US version, and now A Few Best Men. All were presented to Malkin by Craig about seven years ago.
Because he did "an amazing job" on Funeral, Malkin again sought out Lindsay, who had by then moved from Kimmel Entertainment to Arclight Films. Back then, the location of the "destination wedding" was undecided; Lindsay's boss, Arclight managing director US-based, Australia-born Gary Hamilton, pushed for Australia.
A persuasive factor was the producer offset (PO), a 40 percent rebate on Australian expenditure for features that meet a "significant Australian content" test. The holistic test takes into account a range of factors and A Few Best Men already has a provisional certificate and Malkin has no doubt it will get a final upon completion.
"There is definitely a proliferation of producer credits but in this instance it is absolutely warranted," says Malkin when asked about Hamilton's producing credit. "We could not have navigated Australia without him. He funded the early development and scouting — you rarely get that type of support — and had the relationship with Stephan and Screen Australia."
By mid-2010 A Few Best Man was financed and principal photography scheduled to be finished by year end. But Standard Chartered Bank suddenly withdrew its loan funds a few weeks before pre-production began, not reasons unrelated to the production.
After much nail-biting, the team was rescued by Ingenious and Quickfire. Federal agency Screen Australia and the New South Wales film agency stayed loyal to the project, Screen NSW putting up $950,000, or about 10% of the budget, being an $850,000 investment through the usual production fund and a $100,000 grant from a fund that encourages filmmaking outside Sydney. (Screen Australia does not reveal the size of its investments until annual report time.)
The high level of welcome sales advances made contracting "an absolute Everest". As many as 20 people were sometimes on conference calls.
"There is a much clearer path in Australia for financing films, compared to the UK at the moment," says Malkin. "There are incentives and support to access them. There are some great Australian directors. People are very straight forward so making a movie here is very straightforward. But the creative has to come first."
Elliot generally writes his own material and has a stockpile from when he was recuperating from a skiing accident in the French Alps, during which he broke his pelvis and fractured his legs and back — since then he has directed Priscilla The Musical and Easy Virtue.
"Gary (Hamilton) said 'just read it as a favour'," he says. "It wasn't there yet but Richard Curtis said that if you get three solid laughs you are onto something and I did."
"A Few Best Men combines the irony that is British writing and the outrageousness that is Stephan Elliott", according to the film's fourth producer, Antonia Barnard, who knows a thing or two about Elliott because she produced his outrageous Welcome To Woop Woop.
Executive producer Todd Fellman was going to be the on-the-ground Australian producer but he was too preoccupied on the feature Bait 3D to see things through and Barnard replaced him.
Queensland, New South Wales and Victoria all fought to secure the film. Elliott thinks that it was his determination to work in his hometown of Sydney that settled the outcome. Filming began on January 17 at Fox Studios Australia, which housed the production offices and all filming except for a couple of scenes at the Sydney Cricket Ground, doubling as an airport, and for two weeks in the Blue Mountains, an hour's drive west of Sydney.
Many exteriors were filmed at a 1888 house called Yester Grange, near Wentworth Falls.
"It is the first absolutely broad comedy I have ever done," says Elliott. "It is really big and American in style, colour, movement and coverage. And I'm sleeping at night and I've never done that during a shoot."
Elliott has come full circle: he started his career filming weddings but despite being offered "about 30" wedding films has never directed one until now.