Sony drew back the curtain on its summer blockbuster-elect Elysium on Monday in a canny promotional event to mobilise social media's chattering classes four months before theatrical release.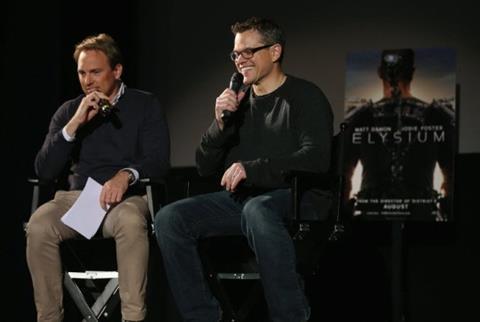 Neill Blomkamp's follow-up to District 9 isn't due out until Aug 9 but we'll be hearing a lot more about this sci-fi adventure between now and then if the response of the invite-only crowd at Arclight Hollywood was anything to go by.
Fanboys, trade press and tastemakers lapped up the imminent theatrical trailer and a little on-stage banter between Blomkamp, regular collaborator Sharlto Copley and producer Simon Kinberg and were even treated to Matt Damon via satellite link from Berlin.
Sony then sneaked 10 minutes of footage. Hundreds of slack jaws watched a ripped Damon as Max, a former ne'er-do-well, who gets a bio upgrade, wrestles with authority and tumbles into his destiny to restore balance between a ravaged earth and the luxury off-world colony of the title.
Up in space Jodie Foster patrols pristine Elysium as the sinister Secretary Rhodes, muttering instructions via a mic to a mean-looking, prodigiously bearded Copley as a Special Ops type down on earth called Kruger.
Will Max get that uncomfortable kit off his body? Will Kruger make it to the barber's shop? We'll find out on Aug 9 – but you get the sense this will be worth the wait.