Dir/scr: July Jung. South Korea. 2014. 119mins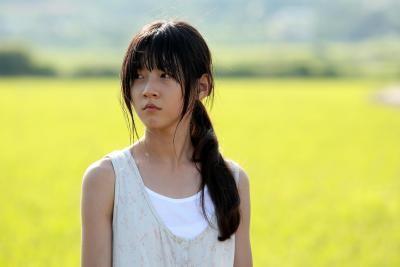 A resolutely left-field and refreshingly off-kilter drama, July Jung's A Girl At My Door (Dohee Ya) is a deftly intriguing tale of alcoholism and abuse that starts off as a seemingly familiar domestic drama before spiralling off into something more unnerving and vaguely disturbing. It is driven by a strong cast and makes the most of it rural location that should be an idyllic but in fact its surface beauty covers up a series of rather dysfunctional people.
A Girl At My Door is an engagingly strange drama, that weaves in abuse, sexual manipulation and racism into its apparently low-key story.
The film is given heart and soul by a magnetic performance by the excellent Doona Bae (from Cloud Atlas, The Host and Air Doll) as a young policewoman struggling to deal with her own problems and whose compassionate nature sees her seeking to protect a young teen girl from physical abuse.
The strong cast could well make it an intriguing film for niche distributors while further festival exposure should be highly likely.
Young-nam (Bae) is the newly appointed chief of a small town police station by the coast, sent there from Seoul after unspecified domestic issues. She tries to be polite, keep a low profile and tolerate the drunken excesses of some of the locals, though at home she drinks heavily herself – decanting booze into water bottles and finding drinking is the only way she can get to sleep.
Drama comes into her life in the form of Dohee Ya (Kim Sae-rom), a timid and withdrawn 14 year-old girl, covered with cuts and bruises, who is bullied by schoolmates and beaten by her boozy stepfather Yong-ha (Song Sae Byuk).
After yet another beating at her home, Dohee Ya's equally alcoholic step-grandmother is found the next morning dead in the sea, with the assumption that she rode her vehicle off the road. When Yong-ha attacks the girl yet again Young-nam offers to let her stay at her house, with the two rather wounded women offers each other a kind of solace.
The film spins off in a subtly different direction when Young-nam's former girlfriend comes to visit and Dohee Ya's manipulative jealousy sees the policeman being investigated by her own force after the young girl makes accusations that she has been sexually abused by Young-nam. Despite her good intentions. Young-nam finds herself caught in a terrible position with the underbelly of this dark little rural town with this twisted story getting ever more strange and troubling.
A Girl At My Door is an engagingly strange drama, that weaves in abuse, sexual manipulation and racism into its apparently low-key story – July Jung keeps a sense of blandness to the drama despite the troubling aspects of the storyline – with Doona Bae a charismatic and watchable lead as the troubled young policewoman.
Production companies: Pinehouse Film, Now Films
International sales: CJ Entertainment, http://en.cjenm.com/
Producers: Lee Changdong, Lee Joondong
Executive producer: Simon Lee
Cinematography: Kim Hyunseok
Editor: Lee Younglim
Production designer: Yoon Sang Yoon
Music: Jang Younggyu
Main cast: Doona Bae, Kim Sae Ron, Song Sae Byuk