Dir: Pascal Chaumeil. UK-Germany. 2013. 96mins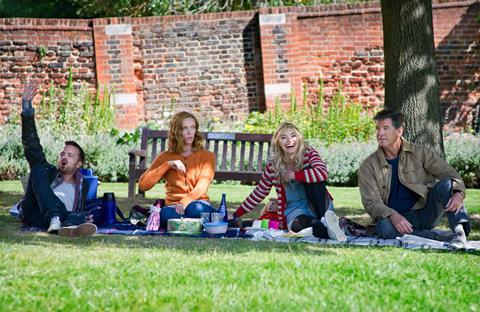 For a film about suicide, there is a whole lot of warmth and heart to Pascal Chaumeil's comedy-drama A Long Way Down, a charmingly played film about how life can offer up a second chance at the most unlikely of moments and how unexpected friendships can offer fresh perspectives. The film offers engagingly complex roles for Pierce Brosnan, Toni Collette, Imogen Poots and Aaron Paul, and while a tough sell to audiences (suicide comedy anyone?) it is well worth the cinematic ride.
Thoughtfully directed by Pascal Chaumeil, it is a film that defies expectations and delivers an impressively life-affirming message.
Adapted from Nick Hornby's best-selling novel, which may help marketing profile, the film is nicely structured as it tackles the doom-and-gloom surrounding its four lead characters, delivering a subtle blend of genres as its tragic and comic aspects combine as some of the big issues of life are played out by the characters. Quite how the four deeply dysfunctional individuals become the most unlikely of support groups is the rather tender core of A Long Way Down.
The film opens with disgraced television presenter – fresh from seeing his life fall apart after he had sex with a girl a few months shy of her 16th birthday ("she looked 25 to me" he insists) – Martin Sharp (Brosnan) strapping a ladder to the roof of his car on New Year's Eve and heading to Toppers Tower, an anonymous London office block notorious as a suicide hotspot.
The ladder – which he has to walk up to the roof – is to lay across three feet of barb-wire netting around the outside of the roof. He lights a cigar and heads to the edge of the ladder. But his plans to jump are hampered by the arrival of three other people, all with similar plans and all keen to use his ladder.
The new arrivals are Maureen (Collette), a housewife on the verge of a breakdown after years of taking care of her severely disabled son; failed rock musician cum pizza delivery boy JJ (Paul, from Breaking Bad), and, youngest of them all, lovesick but rebellious Jess (rising Brit star Poots). Against all logic they end up telling each other their stories and grudgingly help one-another, finally making a pact not to kill themselves before Valentine's Day – giving them six weeks keep on staying alive.
Sadly their story makes the press, though their desire to stay bonded isn't helped by Jess's story that up on the roof a naked angel that looked just like Matt Damon had decreed "thou shalt not die tonight" and stopped them from jumping. To escape attention the four take a trip to Spain, and gradually get to know each other better though it all ends badly when it is revealed that JJ's reason for wanting to kill himself are more deep-rooted than he first explained to them.
It is an intruguing story about fractured individuals, with suicide and depression the unlikely subjects for dark comedy. It is a bold choice for Brosnan to play a self-pitying paedophile, and while he is the 'star' here the film is very much a four-hander, with each performer delivering intelligently nuanced performances. Thoughtfully directed by Pascal Chaumeil, it is a film that defies expectations and delivers an impressively life-affirming message.
Production companies: Wildgaze Films, DCM Productions, BBC Films, Lionsgate
International sales: HanWay Films, www.hanwayfilms.com
Producers: Finola Dwyer, Amanda Posey
Co-producers: Dario Suter, Christoph Daniel, Marc Schmidheiny, Christine Langan, Nick Horbny, Zygi Kamasa
Screenplay: Jack Thorne, based on the novel by Nick Hornby
Cinematography: Ben Davis
Editor: Barney Pilling
Production designer: Chris Oddy
Music: Darlo Marianelli
Main cast: Pierce Brosnan, Toni Collette, Imogen Poots, Aaron Paul, Rosamund Pike, Sam Neill, Tuppence Middleton, Joe Cole