Parvez Sharma's pilgrimmage to Mecca shot on an iPhone picked up a prize as the LGBT festival in Los Angeles came to a close on Sunday night.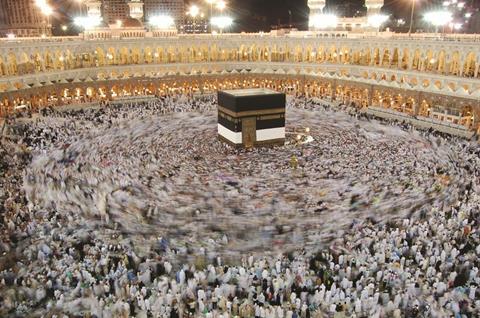 2015 Outfest ran from July 9-19 and closed with François Ozon's The New Girlfriend.
Audience Awards
Dramatic Feature
Fourth Man Out, dir Andrew Nackman
Documentary Feature
The Glamour And The Squalor, dir Marq Evans
First US Dramatic Feature
Those People, dir Joey Kuhn
Documentary Short
A Place In The Middle, dir Dean Hamer
Dramatic Short
The Letter, dir Angeles Cruz
Grand Jury Awards
Citations appear below as formulated by the juries
Documentary Feature Special Recognition
For Excellence in Filmmaking we award a Special Jury mention to Tchindas, a masterfully crafted intimate portrait of the courageous Cape Verdian trans community
Documentary Feature Winner
We award Best Documentary Feature to A Sinner In Mecca for gay filmmaker Parvez Sharma's daring iPhone journey of acceptance into the heart of Islam.
Actor in a US Dramatic Feature
For a richly multi-dimensional portraits of young gay men, balancing their forbidden relationship with their Muslim faith in post 9-11 New York. The Best actor in a US Feature goes to Curtis Cook Jr and Kerwin Johnson Jr in Naz And Maalik.
Actress in a US Dramatic Feature
For capturing with a quick-witted humour the sympathetic qualities of a difficult character and humanising the issue of sex addiction the Best Actress in a US Feature goes to Judy Greer in Addicted to Fresno.
Screenwriting in a US Dramatic Feature
For its remarkable depth of character history and its sincere and complicated exploration of family, home, sexuality, and parenthood, the Best Screenplay Award goes to Sebastian.
US Dramatic Feature Film
For its deft use of humour and its unexpected subversion of expectations, the award for Best US Narrative feature goes to Nasty Baby, directed by Sebastian Silva.
International Dramatic Feature
For its eerie elegance, audacious storytelling and carnal depiction of love, the International Dramatic Feature goes to Everlasting Love, directed by Marcal Fores.
Documentary Short Film
For its inspiring portrait of a beloved young activist and advocate for transgender rights, the Jury Prize for Documentary is given to Brockington, directed by Maggie Sloane, Mason Sklut, Sergio Ingato.
Experimental Short Film
For its confounding and provocative reflection, we award the Jury Prize for Experimental Short Film to The Lamps, by Shelly Silver.
Dramatic Short Film
For its evocative cinematography that captures desire between two young men who seize the night – one an apprentice barber and the other a young man leaving for the military service – we award the Jury Prize for Short Narrative to Tremulo, directed by Roberto Fiesco
Special Jury Mention
We can't Live Without Cosmos
For its innovative storytelling that transcends language and redefines companionship through the animated portrait of two astronauts whose commitment to each other is out of this world, we award a Special Jury Prize to We Can't Life Without Cosmos, directed by Konstantin Bronzit.
Special Programming Awards
Emerging Talent
For crafting a funny and moving portrait of a young trans man living his truth in rural North Carolina, reminding us all that love can prevail even in the face of intense bigotry and ignorance, the 2015 Programming Award for Emerging Talent goes to Hillevi Loven for Deep Run.
Freedom
For risking incarceration by telling the story of LGBTQ Kenyans in a country where homosexuality itself is a criminal offense, and for its deft balance of documentary and narrative filmmaking technique in capturing subjects who are forced to keep their identities secret, the 2015 Programming Award for Artistic Freedom goes to Jim Chuchu and the NEST Collective for Stories Of Our Lives.
Artistic Achievement
For moving trans cinema forward by placing its heroine firmly into genre storytelling and for its powerful evocation of the Muxe culture of small-town Mexico, the 2015 Programming Award for Artistic Achievement goes to Rigoberto Pérezcano for Carmin Tropical