Dirs: E.L. Katz, Julian Barratt, Julian Gilbey, Robert Morgan, Alejandro Brugues, Aharon Keshales, Navot Papushado, Jim Hosking, Bill Plymton, Erik Matti, Dennison Ramalho, Kristina Buozyte, Bruno Samper, Lancelot Oduwa Imasuen, Robert Boocheck, Larry Fassenden, Hajime Ohata, Todd Rohal, Rodney Ascher, Marvin Kren, Juan Martinez Mareno, Jen Soska, Sylvia Soska, Vicenzo Natali, Jerome Sable, Steve Kostanski, Alexandre Bustillo, Julien Maury, Uichi Umezawa, Chris Nash. US. 2014. 125mins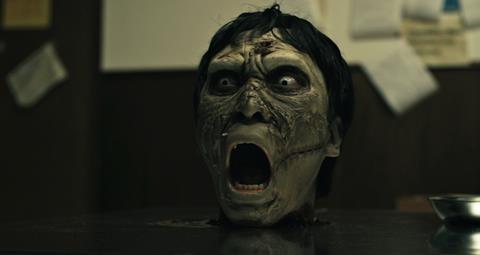 The second instalment of the ambitious horror anthology series is a tighter, more efficiently-paced kaleidoscope of international tastes and styles than its 2012 predecessor, with a greater emphasis on gallows humour than gross-out shock tactics that should see it received strongly by genre audiences, especially on VOD platforms.
As a showcase for emerging international talent, the film is without equal, but as a stand-alone feature it does run a little long. ABCs Of Death 2 should find its ideal home on VOD platforms, where its strengths can be exploited most effectively.
Like the first film, ABCs Of Death 2 provides a high-profile platform for 26 new directorial teams to deliver four-minute shorts centering on an assigned letter of the alphabet, and depicting a suitably elaborate and violent death. Hailing from countries as diverse as Nigeria, Japan, Lithuania and Cuba, as well as a strong US and British contingent, most directors have only one or two previous feature credits to their name. The film also marks the feature debut of Robert Boocheck, whose spirited entry M Is For Masticate won its place in the finished film through an online competition held by the producers.
The opening one-two punch of E.L. Katz's A Is For Amateur and Julian Barratt's B Is For Badger are among the strongest offerings. Katz, who caused a splash with his darkly comic debut Cheap Thrills, opens proceedings on an incredibly strong, assured note, following the antics of a professional assassin as he navigates a filthy air conditioning shaft on his way to a job. Barratt, a familiar face in British television comedy, makes his directorial debut in a sharp-witted spoof that casts himself as an arrogant TV presenter at odds with his new crew while on location.
The strong emphasis on humour in this opening salvo sadly works against the next few installments, as the impact of Julian Gilbey's straight-faced C Is For Capital Punishment is somewhat muted by audience anticipation for a punchline that never materialises. Other serious entries, including the politically-charged F Is For Falling, from Israeli duo Aharon Keshales and Navot Papushado, the beautifully atmospheric K Is For Knell from Kristina Buozyte and Bruno Samper, and Hajime Ohata's O Is For Ochlocracy fair better, but will likely be overshadowed by their more aggressively humorous counterparts.
As perhaps was intended, the vignettes work best when they combine graphic splatter effects with bawdy comedy. Strong examples of this include Jim Hosking's G Is For Granddad, which pits a gangly, gold-chained adolescent against his creepy, competitive older relative in a discomforting bedroom standoff. Canadian twins Jen & Sylvia Soska turn the tables on a misogynistic photographer, with their deliberately outrageous T Is For Torture Porn, while fellow countryman Jerome Sable employs a similar tactic in his first-person FaceTime slasher V Is For Vacation, with applaudably gruesome results.
The film's most genuinely unnerving episode is Juan Martinez Moreno's S Is For Split, which follows both ends of a married couple's phone conversation as an intruder breaks into their home and the husband can only listen as his wife is attacked. Japanese FX maestro Uichi Umezawa also impresses with his first directorial offering, Y Is For Youth - another competition entry that won special inclusion - as an angst-filled high schooler unleashes her frustrations on her parents in an impressive volley of outlandish prosthetics.
The diversity of the overall package remains its greatest strength, featuring a myriad different styles and sensibilities from all over the world. L Is For Legacy from Nollywood's Lancelot Imausen and Filipino Erik Matti's I Is For Invincible both trade heavily in regional supernatural themes, but never feel out of place, even alongside abstract animated segments from Robert Morgan and veteran Bill Plympton.
The tone inevitably fluctuates throughout, with the occasional short falling flat, but there is a far higher hit rate this time out, illustrating a stronger grasp on the concept from the producers. Ultimately, the film's strongest segments bookend the feature, with the astonishing visual and conceptual prowess of Chris Nash's Z Is For Zygote wrapping up the endeavour in show-stopping style that will leave gore-hounds in raptures.
As a showcase for emerging international talent, the film is without equal, but as a stand-alone feature it does run a little long. ABCs Of Death 2 should find its ideal home on VOD platforms, where its strengths can be exploited most effectively, allowing audiences to skip around and revisit the strongest segments independently of the uneven whole.
Production companies: Magnet, Drafthouse Films, Timpson Films
International sales: Magnolia Pictures, www.magpictures.com
Producers: Ant Timpson, Tim League
Associate Producers: Todd Brown, Marc Walkow, Ted Geoghegan, Mitch Davis, Tim Riley
Screenplay: Robert Boocheck, Alejandro Brugues, David Chirchirillo, Julian Gilbey, Toby Harvard, Jim Hosking, Juan Martinez Moreno, Nicholas Muscura, Chris Nash, Jerome Sable, Jen Soska, Sylvia Soska, Ant Timpson, Marc Walkow, Alex de la Iglesia
Cinematography: Jon Britt, Jose Roberto Eliezar, Nick Gillespie, Alex Gomez, Adam Hall, Clay Liford, John Rutland, Antoine Sanier, Ioana Casile, Mahlon Todd Williams
Website: www.magnetreleasing.com/theabcsofdeath2