Emilia Clarke, Jack Huston saddle up for Phillip Noyce's long-delayed hillbilly noir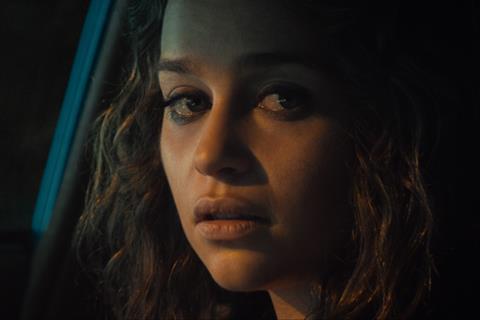 Dir: Phillip Noyce. US. 2017. 105 mins.
Lionsgate's hillbilly noir Above Suspicion initially promises to be dark, trashy fun, but despite a game performance from Emilia Clarke as a seductress infatuated with a married FBI agent, neither the milieu nor the plotting turns out to be particularly steamy. Based on actual events, director Phillip Noyce's thriller struggles to convince as a study in moral rot, and is equally underwhelming in its depiction of an unhappy woman trying to escape her dead-end existence. The long-delayed picture, which finally arrives in the US four years after it was shot, may be of marginal interest to true-crime fans, although many will suspect that this lukewarm tale of sex, drugs and obsession isn't worth seeking out. The story's tawdry hook — a federal agent has an affair with his informant, leading to disaster — may very well be the picture's chief selling point.
One more obsessive-stalker thriller in which the woman is dismissed as deranged.
Taking place in the late 1980s in small-town Kentucky, Above Suspicion introduces us to Susan (Clarke), a mother and addict forced to live under the same roof as her drug-dealing ex-husband Cash (Johnny Knoxville) because she can't afford her own place. A local masked bank robber has successfully pulled off a string of heists, which brings married FBI agent Mark Putnam (Jack Huston) to town to find the culprit. He soon crosses paths with Susan, and his conviction that Cash is somehow involved in these robberies prompts him to offer her a chance to become an informant in exchange for a new life far away. But this arrangement gets complicated once they start sleeping together — and she begins to envision a world in which they can be together permanently.
Chris Gerolmo's screenplay, adapted from New York Times reporter Joe Sharkey's nonfiction book, emphasises this thriller's regional flavour. We sense the desperation of these working-class characters, who have few economic opportunities and need to turn to illegal activities to make ends meet. In such an environment, it's no surprise that a scrappy survivor like Susan is hungry to break free — seeing in the dreamy, ethically slippery Mark someone who can rescue her.
In the film's early stages, Clarke and Huston have such a sultry rapport that it's a foregone conclusion that he'll soon forget his wedding vows and take her to bed. Despite her Southern accent being a bit white-trash cartoonish, Clarke capably conveys Susan's cold calculation and guarded vulnerability, at first scheming to seduce Mark so he can help her, but then falling in love with him.
The problem is that their relationship is so underdeveloped that it's hard to know what — beyond sexual attraction — draws them together. That deficiency becomes an increasingly troublesome issue once Susan begins insinuating herself into Mark's life, befriending his wife Kathy (Sophie Lowe), who knows that she's an informant but not that they're having an affair. Clarke brings such steeliness to the role that it's disappointing that the filmmakers eventually reduce her character to being "crazy", turning Above Suspicion into one more obsessive-stalker thriller in which the woman is dismissed as deranged.
With its use of moody sex scenes and hardboiled voiceover (courtesy of Susan), the picture aims for a noir-ish quality in which morally dubious individuals try to best one another to get what they want. And to be sure, cinematographer Elliot Davis and production designer Laurence Bennett effectively play up the setting's southern decay, giving us a landscape of beat-up flatbed trucks, dilapidated lower-income homes and gloomy forests.
As befitting the premise, hotshot FBI agent Mark assumes he can outmanoeuvre these rubes, only to find himself sinking deeper and deeper into metaphorical quicksand once it becomes too difficult to extricate himself from the clingy Susan. But because Mark is so thinly drawn, there's no sense that this seemingly noble character has experienced a dramatic fall from grace.
In an era of true-crime documentaries, the film's sordid intrigue, which eventually results in murder and betrayal, perhaps would play better in an extended nonfiction streaming series, allowing viewers to savour every seedy plot twist. As it is, Above Suspicion simply feels too familiar in its depiction of small-town sin — this saga of obsessive behaviour is surprisingly easy to shrug off.
Production companies: Colleen Camp Productions, 50 Degrees Entertainment White Knight
International sales: Sierra/Affinity
Producers: Angela Amato Velez, Amy Adelson, Tim Degraye, Mohamed Alrafi, Colleen Camp
Screenplay: Chris Gerolmo, based on the book Above Suspicion by Joe Sharkey
Production design: Laurence Bennett
Editing: Martin Nicholson
Cinematography: Elliot Davis
Music: Dickon Hinchliffe
Main cast: Jack Huston, Emilia Clarke, Sophie Lowe, Austin Hebert, Karl Glusman, Chris Mulkey, Omar Miller, Kevin Dunn, Thora Birch, Johnny Knoxville