Dir. Soi Cheang. Hong Kong, China, 2009, 86 mins.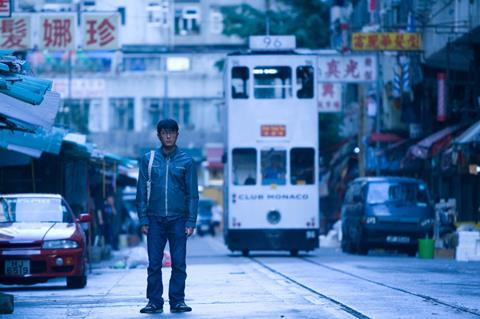 Accident is a tricksy, fantastical Hong Kong hit-man film from Soi Cheang and the Milkyway Creative Team, produced by Johnnie To and bearing all the hallmarks of that label. Kicking off with an impressively well-edited sequence which will ensure audiences never view an accident in quite the same way again, its three main set pieces are enough to see this film break out in Asian markets and be a strong ancillary performer for Media Asia – even if they ultimately become mired in something of a narrative fog.
Cheang turns in some very attractive work, especially in the night sequences, and action involving an eclipse
Running to a snappy 86 minutes, Accident is anchored by its three pieces and easily the most impressive is the opener, set in the busy streets of Hong Kong where a driver is stuck in traffic. A thoroughly enjoyable, high-impact sequence of events follows in which a chain of seemingly accidental occurrences lead to his death with shards of glass impaled in his neck.
This was no ordinary man, however, but a Triad boss, and his death was no accident. The Brain (Louis Koo) and his team – consisting of Uncle (Feng Tsiu-fan), Fatty (Lam Suet) and a nameless character played by Michelle Ye – are hitmen with unblemished records who specialise in making their assassinations look like complete accidents. It's established early on that The Brain is unhealthily paranoid, however, even bugging his own team HQ.
As they go about setting up their next hit – another great sequence involving tramtracks and a wheelchair-bound old man - things start to go spectacularly wrong. Brains is convinced that somebody has taken a hit out on him, firstly suspecting his team members, and then an accountant Fong (Richie Jen) whom he ultimately believes to be behind it all.
Accident is – unsurprisingly, given its pedigree - far more successful and sure-handed when it comes to the action elements, but much footage of Brains' paranoia and Koo's stiff-jawed depiction of the hitman can allow the tension to leak. Notably, this is a Hong Kong actioner with no guns and gore is kept to a minimum.
Stylistically, Cheang is a less-flashy operator than his mentor To, using a lot of available light and evidently shooting on the hoof in crowded cityscapes. He turns in some very attractive work, especially in the night sequences, and action involving an eclipse. The soundtrack lends a jazzy mood to the proceedings.
To sign up for Screen's weekly Reviews Newsletter with all the week's new releases, international openings and full festival reviews delivered free to your mailbox every Friday, please click HERE
Production companies
Milkyway Image
International sales
Media Asia Distribution
+ 852 23144288
Producers
Johnnie To
Screenplay
Szeto Kam Yuen
Nicholl Tang
Milkyway Creative Team
Cinematography
Fung Yuen-man
Editor
David Richardson
Production designers/costumes
Silver Cheung
Stanley Cheung
Music
Xavier Jamaux
Main cast
Louis Koo
Richie Je
Feng Tsui-fan
Michelle Ye
Lam Suet
Han Yuqin
Monica Mok