Life of Crime, co-produced by Image Nation Abu Dhabi, is presented as opening-night gala for festival's seventh edition.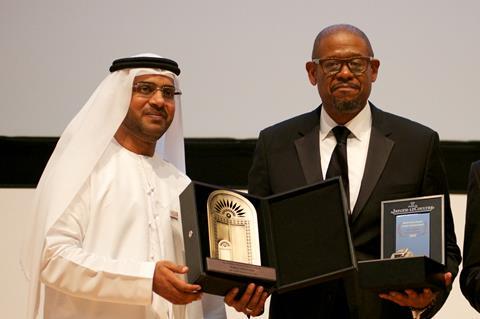 Forest Whitaker kicked off the Abu Dhabi Film Festival's 2013 edition last night with his gracious acceptance of the festival's Black Pearl Career Achievement Award (presented with Jaeger-Le Coultre watches).
Whitaker said he'd researched the significance of black pearls. "There is reference to sacrifice and hard work, with a hope of good future. I'm thankful you think of me in that way," he said, before somewhat surprisingly bursting into song, singing (very well) some Arabic verses.
Life of Crime
Director of programming Teresa Cavina said the festival was proud to welcome Life of Crime as its opener for three reasons: "It has a little bit of the heart of Abu Dhabi in it, as it is co-produced by Imagenation Abu Dhabi; it's the last love child of the great writer Elmore Leonard who passed away earlier this year; and it's a fantastic film."
The film, a caustic kidnapping caper set in 1978 Detroit, stars John Hawke, Yasiin Bey (aka Mos Def), Isla Fisher, Will Forte, Tim Robbins and Mark Boone Junior.
Image Nation Abu Dhabi was a producer of the film alongside Ashok Amritraj's Hyde Park Entertainment (the companies have previously worked together on films like Ghost Rider: Spirit of Vengeance.)
"Our international parters are very important to us, because our Emirati filmmakers can get real-world expereience" working on international projects, said Image Nation's CEO Michael Garin.
Amritraj added: "It's always a wonderful feeling to screen a movie here, especailly on opening night."
He noted he first read the script for Life of Crime when he was ill in a hospital in Chennai, India last December.
Creative vision
Amritraj quipped about director Daniel Schechter: "It's great to work with a director like Dan who has a great creative vision, especially when his creative vision is just like mine."
Director Schechter and one of the film's stars, Mark Boone Junior, also attended the opening night gala. Schechter will deliver an ADFF masterclass today.
"Example" to other festivals
Festival director Ali Al Jabri said of the festival's seventh edition: "We have a lot to be proud of. The achievements of the last six years have been able to make our festival as strong and coherent as it is today. We were always determined to make this festival successful."
He pointed to the festival becoming a supportive ecosystem with initiatives such as its SANAD grants to support Arab filmmaking.
"This is more than a typical cinematic platform, we are contributing to the international film landscape and becoming an example to other festivals. This has helped Arab productions to move forward."
Indeed, ADFF today presents the world premiere of United Arab Emirates-produced horror film Djinn directed by Tobe Hooper; it is another Imagenation Abu Dhabi production.