Dir/scr:Greg Mottola. US. 2008. 107 mins.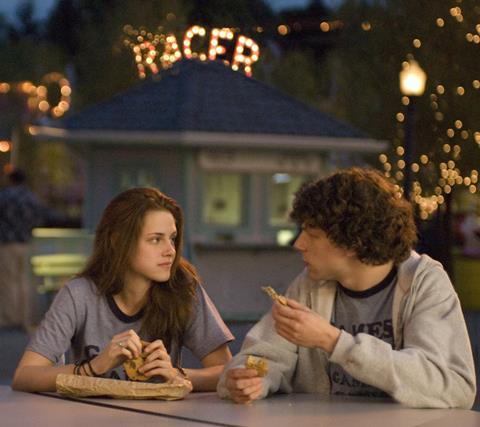 Writer-director Greg Mottola's 80s-set Adventureland feels like a sweeter, more personal riff on Superbad (2007), the raunchy summer smash which he also directed. Jesse Eisenberg's winning performance and a choice soundtrack contribute significantly to a warm love story about two likeminded souls sharing a memorable summer working at a woebegone amusement park.
This goes out in the US on March 27 through Miramax, which will be hoping to attract the same fanbase as Superbad ($170m worldwide). Star Jesse Eisenberg drew accolades for his role in 2005's The Squid And The Whale, but Twilight's Kristen Stewart as the female love interest will be the main draw here afterher vampire romance's $324m worldwide take pre-Christmas.
In the summer of 1987, brainy college graduate James (Eisenberg) must take a summer job if he's to advance any further academically. With few options available, he signs on at Adventureland, a rundown local amusement park. Things look up, though, after he meets Em (Stewart), a cool, edgy girl who also works at Adventureland and shares his love of modern rock. They hit it off, but she doesn't tell him that she's secretly having an affair with the park's married mechanic (Ryan Reynolds).
Greg Mottola started out by writing and directing indie comedy The Daytrippers before directing mainstream movies such as Superbad. Adventureland represents a return to Mottola's roots, but if this comedy's broad humour and pop-culture period detail recall the style of Superbad, his writing here gives the story a heartfelt quality that was largely lacking in his for-hire studio feature. His lead character James may be a sensitive intellectual, but it's very believable that his hip demeanour would click with the gorgeous, introspective Em since they both dream of a larger world outside their shabby surroundings. Mottola supplies his leads with bouncy dialogue that rarely feels merely clever.
As he did in The Squid And The Whale, Eisenberg projects a sense of precocious intelligence and quiet confidence that belies his youthful countenance. James is certainly nerdy, but Eisenberg doesn't rely on self-deprecating gimmicks to elicit sympathy - instead, it's his brains and self-possession that make him attractive. As James's dream girl, Stewart conveys Em's flirtatious spirit while also hinting at the troubles secretly eating away at her.
The celebrated indie-rock band Yo La Tengo provide the wistful score, but the soundtrack is dominated by music supervisor Tracy McKnight's deft song selections (from The New York Dolls, Lou Reed, Big Star, The Replacements and others) which effectively accentuate the emotions of key scenes without overshadowing them.
Production companies
This Is That
Sidney Kimmel Entertainment
Domestic distribution/international sales
Miramax
+ 1 212 941 3800
Producers
Ted Hope
Anne Carey
Sidney Kimmel
Cinematography
Terry Stacey
Production designer
Stephen Beatrice
Editor
Anne McCabe
Music
Yo La Tengo
Main cast:
Jesse Eisenberg
Kristen Stewart
Ryan Reynolds
Martin Starr
Bill Hader
Kristen Wiig