The president of China Film Co-Production Corporation told an AFM panel on Friday that local producers want collaboration with American and international counterparts in order to make better films that can travel.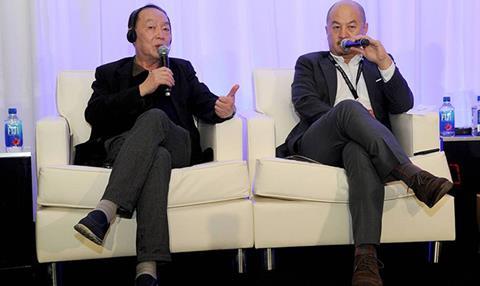 Speaking at the Producing In China session at the Fairmont Miramar Hotel in Santa Monica, Miao Xiaotian noted how the local talent pool was not yet sufficiently deep to sustain by itself the roughly 600 films that get made annually in his country.
The local production base is booming – Xiaotian estimated it could go up from $4.8bn in 2014 to $7bn this year – as China plays catch-up with Hollywood practices and standards in many areas.
April Ye, CEO of Film Finances China, explained how until recently not a single Chinese film or TV show was bonded.
That is changing as her company, which launched earlier this year, introduces the product to the local industry.
"Directors used to be the boss of state-owned productions," said Ye, explaining how the ability of bond companies to wield power should a production stray off course has raised eyebrows. "It's an education process."
As the conversation turned to P&A spend, Wang Tianyun [pictured left next to moderator Peter Shiao of Orb Media Group] of Shanghai Kuailu Investment Group observed typical spends have gone up from roughly 20% of the budget to around 50%. Indeed a $30m outlay has become "acceptable" with the rise of private capital investors.
Chris Bremble, CEO of China-based effects house Base Media Group that has worked on Chinese smash Monster Hunt and Stars Wars: Episode VII – The Force Awakens, explained further.
Alibaba provided in-kind marketing services to the value of around $14m in exchange for a small equity piece in the film and the film benefited from a separate $15m P&A investment.
The conversation frequently revisited the idea of respecting cultural differences and Bremble pointed out that there needed to be a greater sense of fairness on co-productions.
He cited the case of one production where a Chinese stunt driver bumped into a car in front of him and was nearly fired. The next day an American stunt driver nearly killed several people on set and nothing happened.