Dir: Debs Gardner-Paterson. UK. 2010. 90mins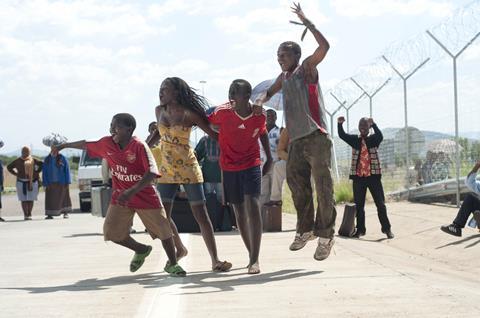 Africa Unitedovercomes initial concerns about simplistic plotting and naive attitudes to emerge as a winning testimony to the power of positive thinking. The story of an incredible journey through a continent enthralled by the impending World Cup has energy and enthusiasm to spare. How to define its audience will be the tricky task for any distributor.
Africa United does win the viewer's heart and proves to be an engaging debut from director Debs Gardner-Paterson.
The unsophisticated nature of the material suggests it might work best as a film for children and families but it has the same sunny good nature that has transformed the novels of Alexander McCall Smith into adult bestsellers around the globe. Positive word of mouth should be a factor in helping to build an audience for the film although distributors may have to act quickly if they are to capture the fading afterglow of the World Cup 2010 campaign that is central to the story.
Clearly intended as an antidote to the many stories of suffering and recrimination that tend to define the global perception of Africa, Rhidian Brook's screenplay is almost relentlessly upbeat as it introduces us to the beaming smile and cheery banter of Dudu (Eriya Ndayambaje), a boy with an uplifting quip for every occasion. Convinced that football is God's greatest creation, Dudu has a talent for making footballs from inflated condoms, plastic bags and string. He is overjoyed when his middle-class pal Fabrice (Roger Nsengiyumva) catches the eye of a FIFA representative and is offered the chance to display his skills at the World Cup opening in South Africa.
The question of how they might travel the 5,000 kilometres from Rwanda to South Africa is a small challenge for someone of Dudu's resourcefulness. Accompanied by Dudu's studious sister Beatrice (Sanyu Joanita Kintu), the trio begin an epic journey by bus, truck, cargo hold and foot. Along the way, they gather their own teammates in boy soldier Foreman George (Yves Dusenge) and sex worker Celeste (Sherrie Silver).
The children's picaresque adventures are sometimes reminiscent of an Enid Blyton novel or a Children's Film Foundation production from the 1970s as they easily outwit bumbling adult baddies and every dramatic crisis is met and neatly resolved with amazing ease. The slightly juvenile nature of the piece is underlined by colourful animated sequences, illustrating a story that Dudu tells to the other children.
Matters do improve as it becomes evident that Africa United is very aware of the problems that face the continent from child soldiers to sex trafficking and, especially, the issue of HIV and AIDS. It addresses those issues lightly but effectively on the journey giving the film more substance and integrity than might have been feared. Dudu's own dark secret may not come as a great surprise but adds to the tearjerking nature of the big finale.
Edited by Victoria Boydell to ensure that the pace never flags, Africa United does win the viewer's heart and proves to be an engaging debut from director Debs Gardner-Paterson.
Production company: Foot Print Films Ltd
International sales: Pathe International, www.patheinternational.om
Producers: Mark Blaney, Jackie Sheppard, Eric Kabera
Executive producers: Francois Ivernel, Cameron McCracken, Christine Langan, Stefan Allesch-Taylor
Screenplay: Rhidian Brook
Cinematography: Sean Bobbit
Production designer: Mike Gunn
Editor: Victoria Boydell
Music: Bernie Gardner
Main cast: Eriya Ndayambaje, Sanyu Joanita Kintu, Roger Nsengiyumva, Sherrie Silver, Yves Dusenge