Dir: Yousry Nasrallah. France-Egypt. 2012. 125mins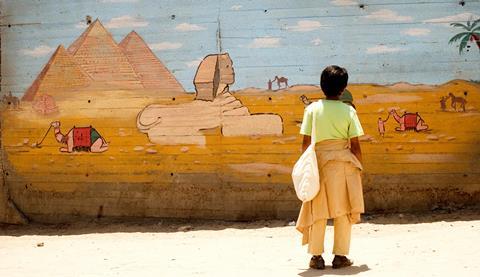 Yousry Nasrallah probes Egyptian society during the heated and heady days of last year's revolution in Tahrir Square in After The Battle, a thinly dramatised vehicle for Nasrallah and his co-writer Omar Schama to air some fervid domestic debates.
Nasrallah bounces interesting ideas around his film, but few of them gain any real traction.
Opting to funnel the polemic through the central character of Rim, a middle-class Cairo advertising executive turned impassioned NGO activist and Mahmoud, an impoverished and illiterate horse-rider from the Giza Pyramid village of Nazlet, Nasrallah never manages to lift his characters out of the plot schematic, despite a generous running time.
The result is a flatly shot mash-up of politics and drama that run side-by-side and are often individually interesting but never convincingly connect. While After The Battle (Baad El Mawkeaa) could find enthusiastic audiences at home in Egypt and other interested parties in the Arab world and diaspora (in particular co-production territory France), it will face tougher challenges outside that arena.
Nasrallah's central thrust is to drive the plight of an ignorant villager and his limited world into the heated debate of Tahrir Square - which happened when the now-deposed President Hosni Mubarak's forces convinced some Nazlet villagers to race their animals through protestors in what became known as 'The Battle of the Camel'.
The fictional Mahmoud (Samra), is one of those villagers, now shamed for his actions and dealing with the consequences. Bringing divorced, bourgeois Cairo hothead Rima (Chalaby) into contact with Mahmoud has forced Nasrallah and Schama into gymnastic plot contortions, however, resulting in the creation of Rim's veterinarian friend Dina (Phaedra) who works for an NGO which is providing feed for the animals, including Mahmoud's beloved horse Jamaica.
One kiss in the bushes later, and Rima is all-but setting up shop in Nazlet, counselling Mahmoud's wife Fatma (El Sebai), sorting out their sons' problems at school, and organising a horse rider's union - none of which goes down well with village strongman Haj Abdallah (Abdallar).
Nasrallah bounces interesting ideas around his film, but few of them gain any real traction. Sections dealing with the role of women in this turbulent era in Egypt recall the more impactful and tightly focused Cairo 678, although the juxtaposition of the wall built in Nazret to keep the villagers away from the pyramids with the Cairo protests and Rim's urban lifestyle is strong. Of the actors, Samra (The Yacoubian Building) is effortlessly convincing while Chalaby has a tougher character to make sense of. Production values here are adequate, with Nasrallah and cameraman Samir Bahsan turning in solid, no-frills work. Music is lightly applied.
Production companies: Siecle Productions, Studio 37, New Century, Dollar Film, France 3 Cinema
International sales: MK2, www.mk2.com
Producers: Walid El-Kordy, Georges-Marc Benamou
Screenplay: Yousry Nasrallah, Omar Schama
Cinematography: Samir Bahsan
Editor: Mona Rabi
Production designer: Mohamed Atteya
Main cast: Menna Chalaby, Bassem Samra, Nahed El Sebai, Salah Abdallah, Phaedra