Dir/scr: David Lowery. US. 2013. 106mins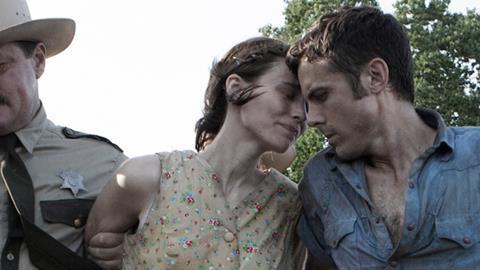 Clearly indebted to the elegiac style of Terrence Malick's 1970s films, Ain't Them Bodies Saints is such a persuasively cinematic experience that one ultimately forgives (but doesn't forget) the threadbare story and obvious reference points on display. Writer-director David Lowery's second feature fills the frame with a grand, doomed love story that's drunk on its own visual beauty and melancholy tone. Still, there's real panache here that goes beyond mere copycatting to effectively eliciting strong emotions from a familiar narrative about lovers on the lam.
In tune with the movie's lyrical style, the performances have an elemental power that's understated but resonant.
Ain't Them Bodies Saints screens in Sundance's US Dramatic Competition and stars Rooney Mara, Casey Affleck and Ben Foster: three names that will attract indie audiences. No doubt most reviews and advertising will play up this drama's Malick-like properties, which could be a double-edged sword. Will his fans seek this title out? Or will they be turned off by the blatant homage?
Set in small-town Texas in the 1970s, the film introduces us to young married couple Bob (Affleck) and Ruth (Mara), who will soon be welcoming their firstborn. But after a heist goes wrong and Bob ends up in prison, it appears that Ruth will have to take care of their daughter on her own. Four years into his sentence, though, Bob escapes, provoking the local sheriff (Foster) to keep a close eye on Ruth, convinced that the criminal will be trying to reunite with her.
Lowery, who edited the hotly anticipated Sundance premiere Upstream Color, is more interested in creating a world and a mood than he is in crafting a scintillating narrative. All three principal characters are types we've seen scores of times before — the plucky outlaw, the loyal good girl, the lawman drawn into their web — but the performances are so effortless and controlled that the actors transcend the clichés, giving the roles a timeless quality that consciously pushes this film into the realm of a folktale.
In this way, Ain't Them Bodies Saints recalls Malick's outlaw-lovers drama Badlands and the open-sky beauty of the fable-like Days Of Heaven. (There is, however, no voiceover in Lowery's film.) Lowery is hardly the first filmmaker to crib Malick's poetic aesthetic, but his clear confidence in aspiring to the same sort of enrapturing experience is undeniably impressive. When the results are this cohesive and affecting, one begrudgingly acquiesces rather than complains.
Ain't Them Bodies Saints is lovingly rendered thanks to gorgeous photography from cinematographer Bradford Young and lived-in period detail from production designer Jade Healy and art director Jonathan Rudak. (Daniel Hart's wistful music only heightens the spell.) No matter his derivativeness, Lowery is quite skilful at building emotion and crisscrossing between storylines — Mara and Affleck are almost never on screen together — and so credit must also go to editors Craig McKay, Jane Rizzo and Patrick M. Knicklebine for their seamless transitions and sure pacing.
In tune with the movie's lyrical style, the performances have an elemental power that's understated but resonant. Affleck has played different kinds of cowboys in The Assassination Of Jesse James By The Coward Robert Ford and The Killer Inside Me, but in Ain't Them Bodies Saints he's a taciturn, sad-faced young man driven less by greed than a burning desire to see his family again. Likewise, Mara's Ruth pines gorgeously while maintaining a cool exterior. And Foster succeeds in the film's trickiest role, his sheriff slowly insinuating himself into Ruth's life until painful revelations come to the surface. They may all be mere instruments in Lowery's bold orchestral sweep, but he gives each of them time to shine.
Production companies: Evolution Entertainment, Paradox Production, Lagniappe, A Sailor Bear, Parts & Labor, Primary Productions, The Weinstein Company
US sales: WME Global, www.wma.com
International sales: The Weinstein Company, http://weinsteinco.com
Producers: Toby Halbrooks, James M. Johnston, Jay Van Hoy, Lars Knudsen, Amy Kaufman, Cassian Elwes
Executive producers: Mark Burg, Jesse Kennedy, Logan Levy, Fredrik Malmberg, Michael Menchel, Daniel Wagner, Harvey Weinstein, Bob Weinstein
Cinematography: Bradford Young
Production designer: Jade Healy
Editors: Craig McKay, Jane Rizzo, Patrick M. Knickelbine
Music: Daniel Hart
Website: atbsfilm.tumblr.com
Main cast: Rooney Mara, Casey Affleck, Ben Foster, Nate Parker, Keith Carradine