Dir/scr: John Ridley. UK-Ireland. 2013. 120mins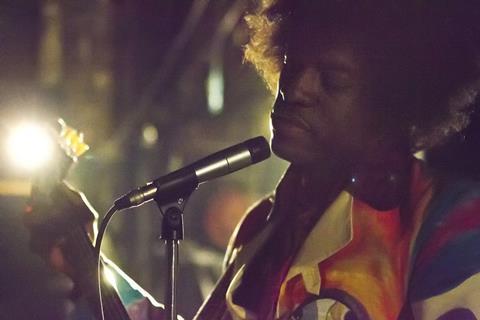 Presenting a pleasingly idiosyncratic alternative to the typical rock biopic, All Is By My Side offers a look at musician Jimi Hendrix not through a blow-by-blow account of his career highlights but, rather, a nuanced, intelligent portrait of an artist trying to find himself. Writer-director John Ridley chronicles an instrumental 12-month span in Hendrix's life in 1966 and '67 in which he moved to London and found his creative voice, and the film is as much about the artist as it is a rumination on art itself. Those looking for a nuts-and-bolts biography of the man will be disappointed. Those wanting something richer and more challenging may well be rewarded.
Ridley has attempted a more inquisitive study into an artist's consciousness than we usually get from the movies.
All Is By My Side screens in the Special Presentations section of the Toronto Film Festival, and its subject matter will be of interest to generations of music fans, although the unconventional treatment may leave some viewers cold. The film should also enjoy a boost thanks to the casting of Andre Benjamin (one-half of the acclaimed hip-hop duo Outkast) as Hendrix. Eschewing the broad appeal of recent inspirational music biographies like Ray or Walk The Line, All Is By My Side will be more of a niche play, with art-houses the best bet.
Ridley, who also wrote the screenplay to the celebrated 12 Years A Slave, takes us inside Hendrix's world during the time when he was still a guitarist for other artists, not yet ready to start pursuing his own music. But after he impresses Linda (Imogen Poots) with his guitar prowess, she uses her connections — she's Keith Richards' girlfriend — to get him in touch with a manager, Chas Chandler (Andrew Buckley), who encourages him to leave New York and move to London. Once there, Hendrix starts to blossom, developing a serious but complicated relationship with girlfriend Kathy (Hayley Atwell).
All Is By My Side utilises none of Hendrix's own music, an indication of the against-the-grain strategy of this film. Ridley isn't interested in showing the audience what inspired a specific hit or how a particular album was recorded. Instead, the filmmaker fashions an immersive reconstruction of the place and time that helped shape Hendrix's artistic sensibility. Rather than dramatizing Hendrix in the act of creating, All Is By My Side mostly shows the man listening to and interacting with others, whether it's a romantic interest, his manager or members of the London music scene. In a subtle way, Ridley is suggesting that all of these different factors helped spawn the electrifying songwriter who became a legend.
For the last several years, Benjamin has moved away from making music to focus on acting, and his role as Hendrix is his most high-profile to date. What he gets most right about Hendrix is his enigmatic, almost otherworldly demeanour. In his own music, Benjamin has promoted a slightly mystical, sometimes psychedelic vibe, and that attitude translates perfectly in his performance, which is full of gentle charm but also a fair amount of mystery. This sense that Hendrix was always a bit unknowable works especially well when the movie moves into darker territory, particularly when it comes to Hendrix's occasional violence toward his girlfriend.
While the film works in an instinctive vein, trying to upend biopic conventions in the process, it doesn't do so well in its portrayal of the women in Hendrix's life. Poots is quite fine as Linda, a rock music scenester who slowly discovers the limitations of being a hanger-on in this world, but Atwell struggles to make Kathy a compelling-enough presence. That's a major problem since Hendrix's moments of physical abuse toward her make one question why she would stay with him; the movie's inability to answer that question is a nagging disappointment.
The lack of a traditional biopic arc is refreshing, but it can also make for a somewhat wandering narrative, with certain digressions more fruitful than others. (For instance, Hendrix's encounter with a black Englishman who wants him to speak up more about race relations doesn't hit as forcefully as it could.) But All Is By My Side's failings can be forgiven since Ridley has attempted a more inquisitive study into an artist's consciousness than we usually get from the movies. The results are imperfect, but they honour an adventurous, unique spirit.
Production companies: Irish Film Board, Darko Entertainment, Freeman Film, Matador Pictures, Subotica
International sales: Content Media Corporation, www.contentmediacorp.com, US sales: Creative Artists Agency, www.caa.com
Producers: Sean McKittrick, Jeff Culotta, Tristen Orpen Lynch, Brandon Freeman, Danny Bramson, Anthony Burns, Nigel Thomas
Executive producers: Edward H. Hamm, Jr., John Ridley
Cinematography: Tim Fleming
Editors: Hank Corwin, Chris Gill
Production designer: Paul Cross
Music: Danny Bramson, Waddy Wachtel
Main cast: Andre Benjamin, Hayley Atwell, Imogen Poots, Andrew Buckley, Ruth Negga