Dir/scr: David Lambert. Belgium-Canada. 2014. 102mins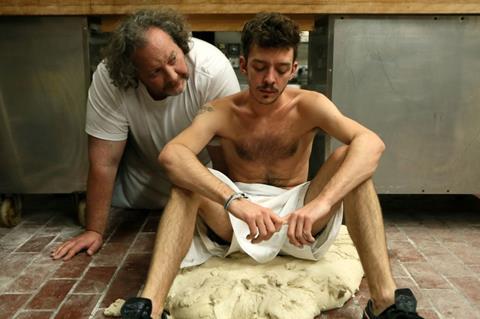 Launching a gay mail-bride story with a hardcore commercial of a male hustler, may not be the best way to reach for a general audience. But the rest of David Lambert's plot, once it starts unfolding on screen, indicates that his intentions are far more ambitious than just targeting the gay market as his opening gambit suggests.
All yours (Je suis a toi), often using clichés that could fit into a heterosexual version of this plot, does hit all the required points on its way to an apparently inevitable ending.
For what seems for a while to be a misconceived coupling of a brash, young, less than-attractive penniless Argentine male hooker with a corpulent, flabby, likeable Belgian baker, develops into a carefully manipulated plot which attempts to deal not only with homosexuality, age, incompatibility, class and cultural background abysses, but also with AIDS, prostitution and more.
Mean-tempered, practically emaciated, gay hooker Luca (Nahuel Perez Bsscayar) has been peddling his body for money back home in Argentina and advertising its limited charms on the internet. But fleshy, overweight, good-humored Henry (Jean-Michel Bathazar), who owns a successful bakery shop in a small Belgian town, seems to fall for him and he pays his way to Europe, prepares to install him in his flat, to become in the course of time both his lover and his apprentice in the shop.
Luca's disgust is evident almost as soon as the two of them meet at the airport and it only aggravates once they reach home. Alleviated every once in a while by one of the couple making brief concessions - out of necessity - to the other, it is never quite the romance it was intended to be.
To complicate affairs even more, there is Henry's salesgirl, Audrey (Monia Chokri), a presentable single mother, first amused to discover the changes in the status of her boss, but soon involved more than she had counted on into what turns out to be a triangular relationship. For Luca is not really a committed homosexual, as he had advertised, he just pretends to for a living.
Lambert's script attempts to cover practically every angle such a situation could generate, from the obstacles facing a vagabond male prostitute to accept the duties incurred in a regular household, to the ups and downs of a relationship between an older man living, as the musical background constantly reminds the audience, in the sweet romantic operetta climate of late 1900s, to the pumping techno sounds of the contemporary generation.
All yours (Je suis a toi), often using clichés that could fit into a heterosexual version of this plot, does hit all the required points on its way to an apparently inevitable ending. But neither the characters nor the performances seem to believe in what they are expected to go through and they certainly fail to convince that this unlikely relationship could survive the test of one day together
Production company: FraKas Productions
Sales contact: Filmoption International, email@filmoption.com
Producer: Jean-Yves Roubin
Cinematography: Johan Legraie
Editor: Helene Girard
Production designer Frederic Delrue
Music: Ramachnadra Borcar
Main cast: Nahuel Perez Biscayar, Jean-Michel Balthazar, Mona Chokri