Dir/scr Chantal Akerman. France-Belgium. 2011. 127mins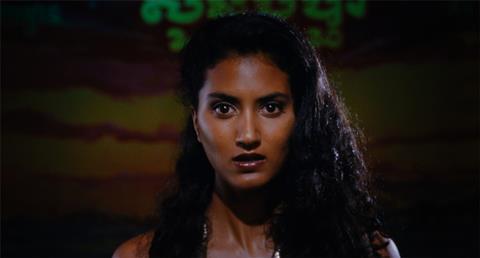 Chantal Akerman's films are usually an acquired taste, mostly - but not only - among festival programmers who appreciate her long shots, slow pacing and her unconventional, intellectual approach. While they will have no reason to complain about her latest effort, featuring as it is all her stylistic earmarks, they may have to concede once again that, with the exception of her ground-breaking Jeanne Dielman, she is generally more comfortable handling documentaries rather than fiction.
Akerman's forte is drawing precise, minute and sensory portraits of the background, the humid heat and the dark interior providing some shelter from a ruthlessly beating sun.
Almayer's Folly (La Folie Almayer)is very freely adapted from Joseph Conrad's first novel of the same name, whose plot has been switched from 1895 to present day, though there are insufficient references establishing the period the plot takes place. Akerman's film deals once again with themes that have been dear to her, such as alienation, displacement and the concept of the other, in this case applied to a white man having to face a hostile native environment in South East Asia.
A Dutch merchant, Kaspar Almayer (Stanislas Merhar), seeking his fortune in Malaysia, is tempted to marry the adopted daughter of the rich Cpt. Lingard (Marc Barbe), hoping to become the man's heir. But Lingard loses all his money in a series of misguided treasure hunts and Almayer is left with a miserable marriage and living at a remote trading post in the heart of the jungle that no one visits. His half-cast daughter, Nina (Aurora Marion), is the only person he adores and would do anything for, though he sends her away from him for years to acquire a Western education that would make her "white" despite the colour of her skin.
Kicked out of her boarding school when Lingard and Almayer have no more money to keep her there, she is courted by native adventurer Dain (Zac Adrianasolo) ,who pretends to assist her father in yet another search for a hidden treasure, when all he wants is to take Nina away from him.
Altogether a desolate and loveless story, in which greedy Westerners sell their souls for money but get nothing in exchange. The natives are beginning to assume their rights and authority but still wear heavy chips on their shoulders, even when they declare their love, it looks and sounds false and whenever they are honest, as Nina is, they confess outright their heart is dead.
Just like Conrad's prose, Akerman's forte is drawing precise, minute and sensory portraits of the background, the humid heat and the dark interior providing some shelter from a ruthlessly beating sun, the rich vegetation which engulfs humans in its midst, the deliberately slow pace of the river, the dreamlike indolence of strangers going on to live there long after the riches they had dreamt of dissipate into thin air.
On the other hand, trying to make sense of the narrative is more complicated. The sequence of events is not always very clear, elliptical jumps in the story are often merciless, the declamatory style of the cast precludes any authentic emotion in their performance and the camera's insistence, every once in a while, to fix itself on one face, even if expressionless, may be too much of a challenge for a regular spectator. And finally, the dramatic changes which have taken place in South East Asia since Conrad wrote his novel deserve more attention than they get here.
Strangely enough, though the novel is not particularly well known, there was an earlier television version of it in 1973 signed by the late cult Italian director Vittorio Cottafavi, and another one seems to be ready for release in Malaysia, the country where it all takes place. Variations in approach might be very interesting to compare.
Production companies: Lisiason Cinematographique, Paradise Film, Artemis Productions
International sales: Doc & Film International, www.docandfilm.com
Producers: Patrick Quinet, Chantal Akerman
Cinematography: Remon Fromont
Editor: Claire Atherton
Production designer: Patrick Deschenes, Alain-Pascal Housiaux
Main cast: Stanislas Merhar, Aurora Marion, Marc Barbe, Zac Adrianasolo, Sakhna Oum, Solida Chan