Dir: Mike Mitchell. US. 2011. 87mins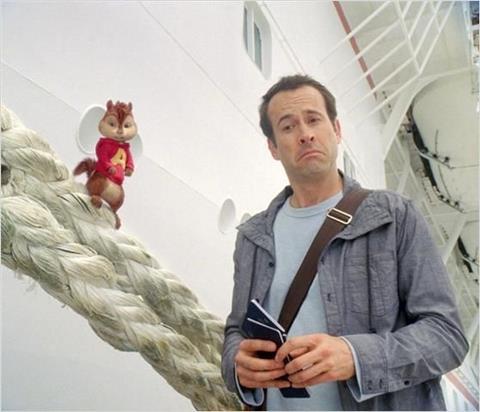 Desperate pop-cultural referencing, endless manic activity, a cynically "hip" sense of humour: These are sadly the hallmarks of most modern kids' films, but they come together to create a particularly noxious concoction in Alvin And The Chipmunks: Chipwrecked. The squeaky-voiced squirrels are back for a new adventure, but there's little fun or touching in their tedious exploits. Consequently, the film will mostly appeal to the youngest of viewers, who probably instead should be reading a book or playing in the fresh air.
The human cast is clearly second-fiddle to Alvin and his crew, although they do their best to be good sports.
The first two Alvin instalments together brought in over $800m worldwide, so it's fair to assume that Chipwrecked will do comparably well. Fox releases the sequel on December 16, which will help give it a head-start on the family films that will be coming out closer to Christmas (The Adventures Of Tintin, We Bought A Zoo, War Horse). But even if the theatrical prospects end up a little soft, these chipmunks will be whipping their tails on DVD and cable for a good long while.
Chipwrecked brings back Alvin (voiced by Justin Long), Simon (voiced by Matthew Gray Gubler) and Theodore (voiced by Jesse McCartney) and their female cohorts, The Chipettes, who are all about to go on a cruise with their human guardian Dave (Jason Lee). But after a series of accidents, The Chipmunks and The Chipettes end up stranded on a tropical island, learning to survive on their own without Dave, who is trying to rescue them.
Despite some attempts at poignancy near the finale, Chipwrecked largely wants to be a madcap romp in which the laughs fly fast and furious at the audience. But director Mike Mitchell (Deuce Bigalow: Male Gigolo and Shrek Forever After) doesn't give the proceedings much zip, which leads to many creaky, awkward gags that fall flat. But even more damaging is the fact that the movie's main characters are simply unlikable. Alvin remains a snotty troublemaker wholly lacking in charm, and while his Chipmunk pals are a little more appealing, they're one-note types who don't generate much warmth. (As for The Chipettes, their function seems to be mostly serving either as love interests or offensively shallow representations of pre-teen girls.)
Perhaps it's a compliment to the Alvin franchise that little is written about the impressive CG rendering of the chipmunk characters. With each film, the technology has improved so that they seem more expressive and are able to blend in with the live action more seamlessly – so much so that one tends not to even notice the interplay between the flesh-and-blood characters and the digital ones. But considering how strained the jokes are – including broad, lazy references to Lord Of The Rings, Cast Away, Sarah Palin and Charlie Sheen – the technical innovation feels like the one area in which the filmmakers have bothered trying at all.
The human cast is clearly second-fiddle to Alvin and his crew, although they do their best to be good sports. Lee is largely forgettable as the forever-harried Dave, but David Cross (as a former nemesis of The Chipmunks) delivers a few wry one-liners. Chipwrecked's new cast member is Jenny Slate as a fellow survivor on the island, and although she exudes a bouncy sweetness she doesn't have enough genuinely funny moments to keep you engaged. Like everybody else up on the screen she appears to be marking time until something better comes along.
Production companies: Fox 2000 Pictures, Regency Enterprises, Bagdasarian Company
Domestic distribution: 20th Century Fox, www.foxmovies.com
Producers: Janice Karman, Ross Bagdasarian
Executive producers: Karen Rosenfelt, Aaron Milchan, Neil Machlis, Steve Waterman
Screenplay: Jonathan Aibel & Glenn Barger, based on the characters Alvin and Chipmunks created by Ross Bagdasarian and The Chipettes created by Janice Karman
Cinematography: Thomas Ackerman
Production designer: Richard Holland
Editor: Peter Amundson
Music: Mark Mothersbaugh
Website: www.munkyourself.com
Main cast: (live action) Jason Lee, David Cross, Jenny Slate, (voices) Justin Long, Matthew Gray Gubler, Jesse McCartney, Amy Poehler, Anna Faris, Christina Applegate